Movies directed by Iain Softley Backbeat
"We're gonna be too big for Hamburg. We're gonna be too big for Liverpool. We're gonna be too big for our own bloody good." - John Lennon, Backbeat Oliver Stone probably loves this film. Not only is Backbeat a story from "his" era, the ear... Hackers
The film industry has discovered computers, and the resulting tide of movies about users -- and abusers -- seems impossible to stem. From Disclosure to Virtuosity to The Net, cyberspace is becoming a hot commodity. The latest picture to cash in o...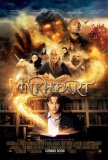 Inkheart
With a premise as potentially rewarding as that of Inkheart, one can be forgiven for being a little disappointed by the final result. When placed alongside other PG-rated fantasy adventure tales, this one struggles to capture the imagination. Par... Skeleton Key, The
The Skeleton Key is the latest of the new breed of PG-13 "horror" movies that emphasize atmosphere and "boo" moments over gore. This film, which is not a re-make of a Japanese production (as many of these pictures are), maintains an internal logic...