Movies directed by Paul Haggis Crash
Ensemble features can be daunting, yet some filmmakers embrace the challenge, and their results reward an audience. A lot of characters are woven into the tapestry of Crash, the feature directing debut of TV veteran Paul Haggis. (Haggis was also O... In the Valley of Elah
The last scene of In the Valley of Elah may be the most ridiculously ham-fisted and over-the-top moment in all of 2007's supposed prestige cinema. This image is so blatant and cheesy that it makes one wonder whether director Paul Haggis' succes...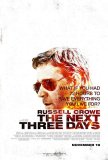 Next Three Days, The
The Next Three Days, Paul Haggis' adaptation of the 2008 French film, Anything for Her, uses an interesting concept as a cornerstone of the foundation. Instead of employing a seasoned professional as the lead character of this heist thriller, the ...