Movies in the Adventure/Science Fiction genre
Maze Runner, The
Despite a strong opening and riveting first 45 minutes, The Maze Runner devolves into one of the weakest post-apocalyptic Young Adult movies to reach theaters in recent years. The film's inability to sustain the energy it starts with results in a d...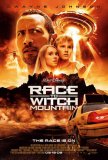 Race to Witch Mountain
Race to Witch Mountain is the latest Disney "made for kids only" effort. It takes all the usual Disney hooks - cute children, a likeable protagonist, lame action and lamer jokes, some special effects, poker-faced bad guys, and an animal - and thro... Zathura
Calling Zathura the "space version of Jumanji" wouldn't be far off. Like the 1995 film, this movie is based on a children's book by celebrated author Chris Van Allsburg in which a group of people plays an amazing board game. (Van Allsburg doesn't...