Movies with music written by Ira Newborn Ace Ventura: Pet Detective
Certain ideas are excellent material for short features on programs like Saturday Night Live or In Living Color. Properly padded, it's possible that a few of those premises could even make passable 1/2 hour television programs. However, stretchin... Mallrats
As promised, Jay and Silent Bob are back. The quirky duo who hung around in the background of Kevin Smith's 1994 debut feature, Clerks, have returned to the screen for the followup, Mallrats, the middle picture of the so-called "New Jersey Trilogy...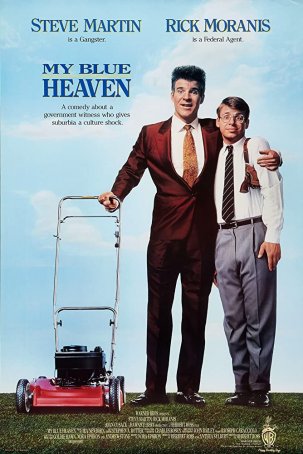 My Blue Heaven
Was there ever a bigger misuse of talent than the one evident in 1990's My Blue Heaven? Not only were both leads, Steve Martin and Rick Moranis, miscast but the director, Herbert Ross (Steel Magnolias), is tone-deaf when it comes to comedic ... Planes, Trains and Automobiles
Planes, Trains, and Automobiles, a 1987 feature from John Hughes, represented something of a watershed in the career of the prolific writer/director/producer. Prior to this film, Hughes had been known for his contribution to the popular '80s genre...
Sixteen Candles
With a film like Sixteen Candles, I find myself wishing I could create my own cut. Some of the material works marvelously well, but the stuff that doesn't takes the movie down with it. For teen films in the '80s, this was a watershed picture - an...