Movies starring Kevin Smith Catch and Release
Catch and Release is a confused, disjointed motion picture that tries to be many things and succeeds in being none. In less than two hours (although it feels considerably longer), writer/director Susannah Grant cobbles together nearly every imagina... Chasing Amy
"And to all the critics who hated our last flick -- all is forgiven." -- Chasing Amy's closing credits Well, I didn't exactly hate Mallrats, but I thought it was a comedown for Kevin Smith, the talented writer/director who debuted strongly with... Clerks
1994 has boasted a number of innovative and humorous films: Four Weddings and a Funeral, Eat Drink Man Woman, Ciao Professore!, The Hudsucker Proxy, My Life's in Turnaround,Fear of a Black Hat, The Adventures of Priscilla Queen of the Desert an... Clerks II
It's interesting to note that, as Kevin Smith has changed and matured as a filmmaker, he has elected to close the circle and look back from a perspective of a dozen years at the movie that put him on the indie map, Clerks. Clerks II is a direct se...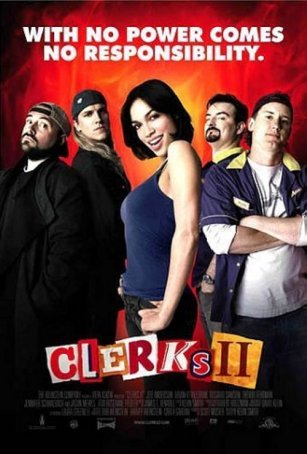 Clerks II (Re-Review)
The passage of time has not been kind to the filmography of Kevin Smith. Most of his movies have a "stuck in amber" quality that makes them most interesting as a reflection of the era in which they were made. His two best efforts, Clerks ...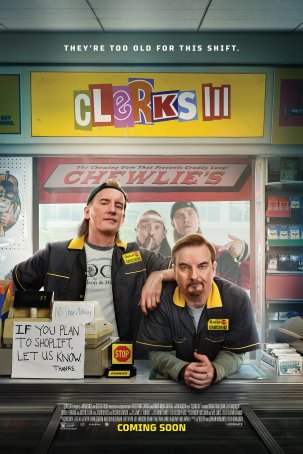 Clerks III
The original Clerks was a trailblazing mid-1990s indie comedy whose love of profanity and pop culture references made it an unlikely art house success story while jump-starting the career of writer/director Kevin Smith. Although Clerks remains amu... Live Free or Die Hard
After twelve years haunting the shelves of video stores, John McClane (Bruce Willis) has been exhumed. The indefatigable hero of three Die Hard films during the 1980s and 1990s appeared to have reached his "sell by" expiration date with the lacklu... Mallrats
As promised, Jay and Silent Bob are back. The quirky duo who hung around in the background of Kevin Smith's 1994 debut feature, Clerks, have returned to the screen for the followup, Mallrats, the middle picture of the so-called "New Jersey Trilogy... This Film Is Not Yet Rated
It's long past time that a filmmaker has shown the courage to expose the MPAA Ratings Board for what they are: censors working under the guise of servants to the public good. For those who have followed the ins-and-outs of the MPAA over the years,...