Movies starring Jason Lee Almost Famous
One of the best reviewed movies of 2000, Almost Famous is sure to appear on many critics' end-of-the-year Top 10 lists. A number of respected voices have already declared this to be the best film of the year. However, although there's no doubt th... Ballad of Jack and Rose, The
The Ballad of Jack and Rose is a low-key character study about a father and daughter whose idyllic lifestyle is interrupted by the arrival of three newcomers. Not much happens in this film beyond the evolution of the characters and their relationshi... Chasing Amy
"And to all the critics who hated our last flick -- all is forgiven." -- Chasing Amy's closing credits Well, I didn't exactly hate Mallrats, but I thought it was a comedown for Kevin Smith, the talented writer/director who debuted strongly with...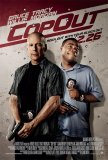 Cop Out
Cop Out is Kevin Smith's first foray into mainstream action/comedy entertainment and the first time he has directed a film he did not write. This is evident - although there are a few ribald moments to be found sprinkled throughout, the movie's hu... Incredibles, The
The Incredibles may become the first Disney/Pixar film not to dominate at the box office. That statement has nothing to do with the film's quality - in fact, The Incredibles is among the best of Pixar's digitally animated movies. However, it's go... Mallrats
As promised, Jay and Silent Bob are back. The quirky duo who hung around in the background of Kevin Smith's 1994 debut feature, Clerks, have returned to the screen for the followup, Mallrats, the middle picture of the so-called "New Jersey Trilogy... Vanilla Sky
Vanilla Sky (the name refers to a painting by Monet) is the quirkily titled American remake of the 1997 Spanish language feature, Open Your Eyes. Like its predecessor, Vanilla Sky is a mind-bending excursion across genres - a warped fairy tale tha...