Movies directed by Len Wiseman Live Free or Die Hard
After twelve years haunting the shelves of video stores, John McClane (Bruce Willis) has been exhumed. The indefatigable hero of three Die Hard films during the 1980s and 1990s appeared to have reached his "sell by" expiration date with the lacklu...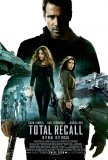 Total Recall
It's a hard thing for a filmmaker, even an accomplished one, to make a project "his own" when the original is well remembered as a vehicle for a star as big as Arnold Schwarzenegger. A mere 22 years have passed since the Schwarzenegger/Paul Vehoeve... Underworld
Vampire movies aren't what they used to be. Gone are the days when a cape, fangs, a cocked eyebrow, and a menacing glare were enough. By today's standards, those things are quaint. Underworld, from first time director Len Wiseman, is an example ... Underworld: Evolution
Some reviews virtually write themselves, and this is an example. Underworld: Evolution is so much like its predecessor, Underworld, in story, approach, look, and feel that an extended discussions of its merits (and lack thereof) seems redundant. Su...