Movies with music written by Julie Delpy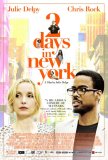 2 Days in New York
2 Days in New York is a sequel to, and an improvement upon, 2007's 2 Days in Paris. Written, directed, and starring Julie Delpy, the movies follow the misadventures of a 30-something Parisian transplanted to New York City. In the first film, Delpy'... 2 Days in Paris
I thought this was a porn movie. No, wait, that's One Night in Paris. I guess two days is too long… 2 Days in Paris provides us with a familiar picture: Julie Delpy wandering the streets of the city in the company of an American she's in lov... Before Sunset
Forget Spider-Man's tussle with Doc Ock. Forget Shrek's trek to Far Far Away. And forget Harry Potter's latest attempt to endure the snipes of Snape. For me, the sequel to see during the summer of 2004 is Richard Linklater's Before Sunset, a fol...