2 Days in New York (Germany/France/Belgium, 2012)
August 06, 2012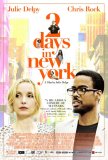 2 Days in New York is a sequel to, and an improvement upon, 2007's 2 Days in Paris. Written, directed, and starring Julie Delpy, the movies follow the misadventures of a 30-something Parisian transplanted to New York City. In the first film, Delpy's Marion returns to Paris for a brief vacation with her boyfriend, Jack, in an attempt to rekindle their romance. We learn in 2 Days in New York that it didn't really work. Jack is now out of the picture but Marion stayed in New York so her young son can spend time with his dad. She now lives with Mingus (Chris Rock), a writer and radio talk show host. Following the death of her mother, her father, Jeannot (Albert Delpy), and sister, Rose (Alexia Landeau), come to visit Marion in New York. Along for the ride is Manu (Alex Nahon), one of Marion's ex-boyfriends who happens to be Rose's current lover.
2 Days in Paris was a talky, unappealing affair that tried to recapture some of the energy and uniqueness of the romantic duology, Before Sunrise and Before Sunset, in which Delply co-starred with Ethan Hawke. Fortunately, 2 Days in New York is freed from the constraint of two lovers wandering the streets of a European city, and concentrates instead on domestic turmoil. Instead of gleaning inspiration from Richard Linklater for this outing, Delpy has turned to Cedric Klapisch, whose Un Air de Famille represents a high water mark in the family conflict genre. It's said that guests, like fish, stink after three days. In the case of Marion's family, it takes considerably less time for them to wear out their welcome.
2 Days in New York splits its time between being a quirky comedy and a quasi-serious drama. Comparisons with Woody Allen may be inevitable, in part because of the setting, although none of the characters in this film are neurotic enough to match vintage Allen. When Delpy remains in more serious terrain, she's on solid ground. The movie makes a point with which many viewers will be familiar: it's easier to love family members long-distance than when they're sharing a cramped apartment. There's friction between Marion, whose responsibilities as a mother have grounded her, and the free-spirited Rose, whose exhibitionist tendencies threaten Marion's relationship with Mingus. For his part, Mingus is surprisingly accommodating of a massive upheaval in his life - at least to a point.
The comedy in 2 Days in New York varies from uneven to failed. A lot of it isn't funny and some of what is, is overused. There's an amusing scene in which Dylan Baker, in a small role as a neighbor, backs away from offering medical advice after he learns that Marion is uninsured, then becomes entranced by Rose's bare butt. Scenes with Manu are more annoying than amusing. And a last-act plot development featuring Vincent Gallo torpedoes the movie's narrative.
Most of the characters in 2 Days in New York - Marion, Rose, Jeannot, and Manu - are returnees from 2 Days in Paris and age has not improved them. The newcomer is Chris Rock, who again shows how much more effective and appealing he can be in "toned down" roles than in wildly over-the-top comedic ones. Delpy is less appealing here than in the Sunrise/Sunset films, and she makes a couple of pointed comments about nudity in art and the commercial appeal associated with bare breasts. (Delpy, who is no stranger to removing her clothing on-screen, stays buttoned-up here, leaving the nudity to her co-writer and co-star, Alexia Landeau.) The director's real-life father, Albert, steals his share of scenes as the movie's resident fish out of water. Jeannot looks like Santa Claus and seems to come from a different planet.
For the most part, the dialogue is improved over 2 Days in Paris, seeming more improvised and less scripted. As the title suggests, 2 Days in New York is a slice-of-life movie that offers a fly-on-the-wall perspective of a congenial domestic situation turned upside down by the visit of relatives. Toward the end, when Delpy attempts to provide something resembling closure, the level of artifice becomes pronounced. The whole segment involving Vincent Gallo and the selling of Marion's soul is a miscalculation.
It's nice to see the occasional small, barely remembered movie get a sequel, although 2 Days in Paris wouldn't have been my first choice. One also has to admire Delpy's persistence in getting the movie made. I just wish it was consistent enough to warrant a more enthusiastic response.
---
2 Days in New York (Germany/France/Belgium, 2012)
---
Three...better movies of this genre
worse movies of this genre
Three...better movies of Chris Rock
worse movies of Chris Rock
Three...better movies of Julie Delpy
worse movies of Julie Delpy
Three...better movies of Albert Delpy
(There are no more better movies of Albert Delpy)
worse movies of Albert Delpy
(There are no more worst movies of Albert Delpy)