Movies with music written by Michael Convertino Bed of Roses
While Bed of Roses lacks the freshness of When Harry Met Sally and the smart sensuality of Before Sunrise, it nevertheless possesses enough intelligence and energy to lift it into the upper echelon of "traditional" modern romances. And, with so ma...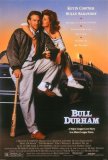 Bull Durham
If one was to make a list of the best baseball-themed movies of all time, Bull Durham would have to be in consideration. Alongside the likes of The Natural and Field of Dreams, it remains one of the best-loved hardball titles. Filmmakers like the... Santa Clause, The
This is what happens when someone takes what might have been a moderately-entertaining television Christmas special and tries to adapt it for the big screen. The Santa Clause isn't an unmitigated disaster, but it's also a whole lot less impres...