Movies directed by Ron Shelton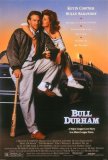 Bull Durham
If one was to make a list of the best baseball-themed movies of all time, Bull Durham would have to be in consideration. Alongside the likes of The Natural and Field of Dreams, it remains one of the best-loved hardball titles. Filmmakers like the... Cobb
It's the nature of our society to put people on pedestals. Some wear the title of "hero" like a mantle; to others, it is an albatross. You need look no further than the O.J. Simpson story to see this. So what defines greatness? This question, i... Tin Cup
Saying that Tin Cup may be the best-ever "golf motion picture" isn't exactly high praise, considering the competition (Caddyshack, Happy Gilmore), but it's true nonetheless. In fact, as sports movies go (regardless of the sport), this one turns in...