Movies starring Robert Wuhl Batman
The superheroes of DC Comics have been very good to Warner Brothers. In 1978, Superman became a major motion picture event, packing theaters and resulting in a franchise that generated three sequels before collapsing under the weight of bad writin...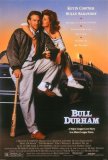 Bull Durham
If one was to make a list of the best baseball-themed movies of all time, Bull Durham would have to be in consideration. Alongside the likes of The Natural and Field of Dreams, it remains one of the best-loved hardball titles. Filmmakers like the... Cobb
It's the nature of our society to put people on pedestals. Some wear the title of "hero" like a mantle; to others, it is an albatross. You need look no further than the O.J. Simpson story to see this. So what defines greatness? This question, i...