Search for Ryan Miller
Kings of Summer, The
Obvious Stand By Me references aside, The Kings of Summer comes across as little more than a TV sitcom with enough swear words included to earn it an "R" rating. There's a little John Hughes vibe here, too: the adults are all idiots and the kids ar...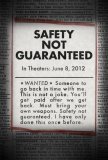 Safety Not Guaranteed
The classified ad reads: "WANTED: Someone to go back in time with me. This is not a joke. You'll get paid after we get back. Must bring your own weapons. Safety not guaranteed. I have only done this once before. " To be clear, Safety Not Guarant...