Movies with screenplay written by David Hayter Scorpion King, The
Watching The Scorpion King, the question that came to mind was whether Dwayne "The Rock" Johnson could become a Schwarzenegger for the '00s. Having asked that, however, it's worth considering whether Schwarzenegger in his prime could have had th...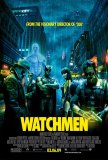 Watchmen
Transforming Watchmen, one of the most lauded comic series of all time, into a movie is as ambitious an undertaking as anyone in Hollywood is likely to attempt. For more than 20 years, a variety of people (including Terry Gilliam, Darren Aronofsky... X-Men
For Marvel Enterprises, the arrival of X-Men on the big screen represents the culmination of efforts that stretch back more than 20 years. For that long, Marvel has been trying to get one of their properties - Spiderman, The Fantastic Four, X-Men,...