A Very Harold & Kumar 3D Christmas (United States, 2011)
November 05, 2011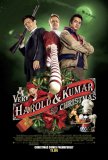 Making an entertaining Christmas movie - at least one that can be enjoyed by anyone having gone through puberty - has become a lost art. I'm not referring to a title destined to take its place among the timeless classics, but merely something that might be as entertaining on repeat holiday viewings as during its first run. National Lampoon's Christmas Vacation is an example of one such film. Although seriously flawed, the Chevy Chase vehicle is the kind of thing that won't clear the room if you pop it into the DVD player on Christmas Eve. It wouldn't surprise me if future years slot the awkwardly-titled A Very Harold & Kumar 3D Christmas into the same category. Although designed for an older audience than Christmas Vacation, the goal is similar: mix outrageous comedy with genuine Christmas cheer. If there's a complaint to be made, it's that the humor could be less scattershot.
This is the third outing for the stoner duo of Harold (John Cho) and Kumar (Kal Penn), the friends first introduced to us on their quest to find a White Castle hamburger joint in New Jersey. Years later, after a side trip to Guantanamo Bay, they have drifted apart. Harold, married to Maria (Paula Garces), holds down a respectable 9-to-5 Wall Street job. Kumar, having been dumped by his girlfriend Vanessa, spends most of his time high while living in a cramped, messy apartment. Fate brings the two friends together on Christmas Eve. Joined by Harold's new best friend, Todd (Tom Lennon), and Kumar's neighbor, Adrian (Amir Blumenfeld), the pair navigates the streets and back alleys of New York City in search of the perfect Christmas tree - a 12-foot Frazier Fir with impeccable branches - while the clock ticks down to Santa's arrival. They are once again aided by the immortal Neil Patrick Harris, who did not die in the previous film despite evidence to the contrary.
A Very Harold & Kumar Christmas (I'll drop the "3D" from the title since it will likely lose that when it arrives for home viewing) follows the template of mixing character development with raunchy humor. The movie isn't afraid to venture down some un-PC byways. There's a subplot involving a toddler who inhales marijuana fumes, gets coke blown in her face, and eats Ecstasy like candy. A scene parodying A Christmas Story features a prosthetic penis. Neil Patrick Harris uses his image as a "gay television star" to make it easier to get girls (a trick he learned from Clay Aiken). And Jesus hangs out in heaven with a couple of topless angels. (The trailer has given them CGI bikini tops.) A Very Harold & Kumar Christmas never goes quite as far as The Hangover films, but it comes close. What's problematic about this is that the filmmakers have mistaken "outrageous antics" and "envelope-pushing" for "funny." This movie has its share of amusing moments, but the comedy is sporadic at best.
Director Todd Strauss-Schulson offers so many nods to previous films, genres, and styles that it's impossible to name them all. There's a Claymation sequence meant to recall the ever-popular holiday TV specials; it comes complete with a new "Christmas song" (albeit not one you'll want to hear your children singing at the table). Neil Patrick Harris participates in a Busby Berkeley-style musical extravaganza featuring recognizable Christmas carols. And there are shots pilfered from action sequences (including one with a lot of raw eggs).
It could be argued that Harold and Kumar showed little growth as characters in either of their previous outings. That's not the case here, where an attempt is made to round them out. In order to play in an "adult" world, Harold has hidden away his fun-loving self. Kumar, on the other hand, is drowning in regret - a fact that becomes evident when Vanessa makes a surprising announcement. A Very Harold & Kumar Christmas is not only about how these two re-connect with each other but how they rediscover themselves. The most telling moment occurs when Harold explains to Kumar why they're on the crazy Christmas tree quest in the first place.
John Cho and Kal Penn have come a long way since their last outing as Harold and Kumar. Cho has entered the realm of big budget blockbusters with his re-interpretation of Hikaru Sulu in Star Trek. Penn joined the Obama administration after a stint on House. (These career moves are mentioned with winks-and-nods during the course of A Very Harold & Kumar Christmas.) Yet, despite the lapse in time, they slide effortlessly back into the roles. Neil Patrick Harris once again delights with self-inflicted character assassination. The rest of the supporting performances, with the possible exception of Danny Trejo as Harold's unsmiling, Christmas tree-loving father-in-law, are unremarkable.
While it's hard to argue the 3D is essential to the experience, there are times when it adds - rather than detracts - from the proceedings. For the most part, it is subtly used but there are occasions when the old-fashioned, in-your-face approach is employed. This mainly occurs with smoke rings, snowflakes, and a Claymation penis. Whether it's worth the $3 surcharge is another matter, but at least the 3D isn't a source of frustration as is too often the case with this format.
For all its raunchiness and irreverence, A Very Harold & Kumar Christmas contains enough holiday spirit that it can be used as a means to get into the Christmas mood. The soundtrack is rich with familiar chestnuts, including staples sung by Johnny Mathis and Bing Crosby, and the film has some fun with familiar holiday traditions (such as visiting a shopping mall Santa). Sloppy though it may be, however, A Very Harold & Kumar Christmas delivers what its fans will expect. And although it will undoubtedly play better to those who are on their fourth cup of eggnog, its peculiar brand of Christmas cheer is accessible to all.
---
A Very Harold & Kumar 3D Christmas (United States, 2011)
---
Three...better movies of this genre
worse movies of this genre
Three...better movies of Kal Penn
worse movies of Kal Penn
Three...better movies of John Cho
worse movies of John Cho
Three...better movies of Paula Garces
(There are no more better movies of Paula Garces)
worse movies of Paula Garces
(There are no more worst movies of Paula Garces)