Are You There God? It's Me, Margaret (United States, 2023)
May 01, 2023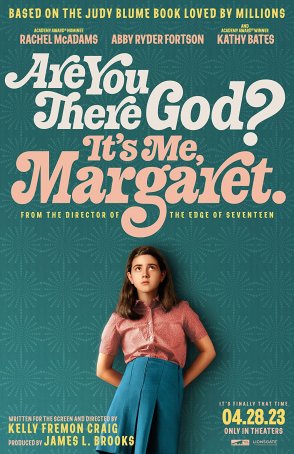 In the 1970s, Judy Bloom broke onto the scene with several popular young adult books. Later in her career, she added mature novels to her resume (with frank depictions of adult sexuality that shocked some who were familiar with her preteen-oriented material), making her one of the most recognizable authors of the decade. It has taken a half-century for one of her most beloved titles, Are You There God? It's Me Margaret to be made into a motion picture and the resulting production illustrates that the themes and ideas that were popular and important to girls in the 1970s remain so today. Although the movie is a decidedly low-key affair without a lot of star wattage (with the exceptions of Rachel McAdams and Kathy Bates), it doesn't feel like a generic coming-of-age story because Bloom addresses situations (menstruation in particular) that almost never make it into movies about growing up as a girl.
If there was a better choice to shepherd this movie to the screen it might be hard to find that person. Kelly Fremon Craig previously wrote and directed The Edge of Seventeen, a high school survival primer for unpopular girls. With Are You There God?, she turns back the clock a few years to examine life as a sixth-grader with particular focus on two areas: emerging sexuality and religion. The 85-year-old book's author is credited as a producer and is said to have made contributions to the production. The screenplay tracks the basic narrative with the most notable change being the decision to expand the role of Barbara Simon, the title character's mother, in order to give Rachel McAdams something more significant to do than reside in the background. Although Are You There God? is still Margaret's story, her mother is a more visible and vital presence than in the source material.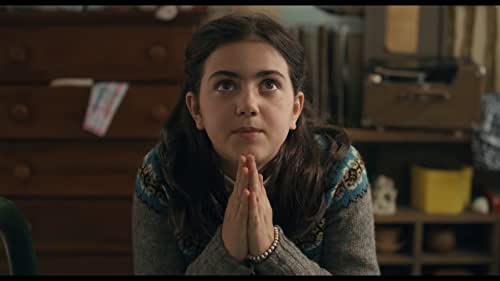 The movie follows a year-in-a-life format, beginning when 11-year-old Margaret Simon (Abby Ryder Fortson) is told that her father, Herb (Bennie Safdie), has earned a promotion and, as a result, the family will be moving out of New York City and across the river to…gulp…New Jersey. Although Margaret initially dislikes the move, she quickly makes a new friend in Nancy Wheeler (Elle Graham) and is inducted as the fourth member into a secret club along with Nancy, Jane Loomis (Amari Price), and Gretchen Potter (Katherine Kupferer). The group meets regularly and the only rule seems to be that wearing socks is not allowed. Although the girls discuss a variety of subjects, their main obsessions relate to body changes – growing breasts, wearing brassieres, and getting their first periods.
Margaret is confused about religion. Although she claims not to believe in God, she prays regularly, beginning her entreaties with "Are You There God? It's Me, Margaret." She asks for the kinds of things one might expect a young girl to request and doesn't show any particular interest in religious dogma – she leaves that to the adults. Her mother was raised Christian and her father is a Jew. Their marriage resulted in a split between Barbara and her parents that dates back 14 years. Meanwhile, Herb's mother, Sylvia (Kathy Bates), never gives up hope that Margaret will embrace her Jewish heritage.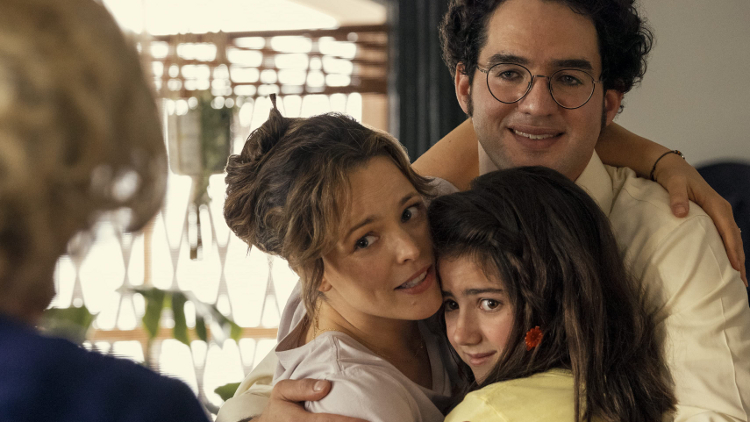 In choosing her cast, Craig has selected a mix of established actors (to play the adults) and relative newcomers. Abby Ryder Fortson, whose previous filmography consists primarily of playing children and/or doing voice work (she was Cassie Lang in the first two Ant-Man movies before being replaced for the third), has the right blend of sincerity, bewilderment, and humor to make the role her own. Elle Graham, with an equally thin resume, is a ball of energy. This film should raise the profiles of both young thespians. Among the veterans, it's no surprise that Rachel McAdams stands out with a nuanced portrayal of a woman facing her own issues while being supportive of her daughter's. Kathy Bates is her usual brassy self, used both for comedic purposes and to illustrate the difficulties experienced by parents (in this case, Barbara and Herb) managing the older generation in relation to their own children.
Perhaps the most refreshing aspect of Are You There God? is how ordinary everything is. The level of melodrama is toned way down. No one is dying of cancer. No one is drunk or trying to kick a drug habit. No one is pregnant. The parents aren't on the verge of breaking up. These are normal, well-adjusted (albeit suburban middle class) girls living in two-parent households whose problems are easily relatable. The movie highlights how little things can become big issues within the preteen bubble and draws the audience into a communion with the characters and their circumstances. Although the target audience is unquestionably mothers and daughters, Are You There God? It's Me Margaret has things to say to viewers of all genders and ages.
---
Are You There God? It's Me, Margaret (United States, 2023)
---
Three...better movies of this genre
worse movies of this genre
Three...better movies of Abby Ryder Fortson
(There are no more better movies of Abby Ryder Fortson)
worse movies of Abby Ryder Fortson
(There are no more worst movies of Abby Ryder Fortson)
Three...better movies of Rachel McAdams
worse movies of Rachel McAdams
Three...better movies of Kathy Bates
worse movies of Kathy Bates