Arthur Christmas (United Kingdom/United States, 2011)
November 23, 2011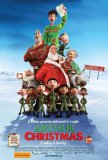 When it comes to Christmas movies, although most are quickly forgotten, a select few go on to become touchstones, beloved and re-watched by families year after year after year. Arthur Christmas may have what it takes to join the latter category. With a clever script that successfully updates many Christmas myths and dialogue that crackles with sophisticated wit, this movie offers the kind of pre-holiday experience that parents and children alike will appreciate. Despite coming out of Aardman, the Wallace and Gromit animation studio known for its claymation projects, Arthur Christmas is a computer-drawn production that looks fine in either 2-D or 3-D. The human characters retain their quirky, "Aardman look" while the animals would fit nicely into the Ice Age world. Although the visuals may not quite be up to Pixar standards, the story is charming enough that it doesn't matter.
There's an element of the Rankin-Bass Christmas classics here. The animated TV specials delighted in deconstructing and expanding upon Christmas legends, and Arthur Christmas opens with a 20-minute segment that explains the workings of the North Pole in the 21st century. Gone are the old sleigh and the flying reindeer. They have been replaced by a supersonic craft with a bridge that resembles that of the U.S.S. Enterprise and a mission control center manned by hundreds of elves. Santa no longer goes down chimneys and his path into houses is smoothed out by a crack team of elf operatives who precede him on the night's mission; there's something almost James Bond-ish about the way they orchestrate the "ground assault" aspect of the journey. We also learn that "Santa" is a hereditary title passed from father to son. The movie opens with a long pan down a North Pole hallway that features portraits of some of the most notable Santas to-date. (The latest one, I believe, is #20.) So, in first-time director Sarah Smith's view of Christmas, Santa is not immortal - although he is long-lived.
As the action gets underway, it's Christmas Eve and the current Santa (voice of Jim Broadbent) has embarked upon his annual sojourn. This is Santa's 70th mission and it is widely expected that, upon its completion, he will announce his retirement and pass the mantle to his oldest son, Steve (Hugh Laurie). Santa and Mrs. Claus (Imelda Staunton) also have another child, Arthur (James McAvoy), who's something of a loveable screw-up. His chief duty is answering letters. There's also Grandsanta (Bill Nighy), the 137-year old Santa before the current one, who holds to his belief that tradition trumps technology. He gets a chance to prove his point when Arthur discovers that one child in Cornwall was overlooked during Santa's Christmas Eve odyssey. When Steve argues that the failure rate of missing one child (out of millions) is excellent, Arthur thinks of the sadness in one home on Christmas morning and decides to deliver the present himself - with the help of the irascible Grandsanta (who has hidden away the original sleigh), eight reindeer, and the elf Bryony (Ashley Jensen).
The voice acting falls into the category of "anonymity," which is perfect for any animated movie. Voices are sufficiently disguised so that even the better-known performers, like Hugh Laurie, are not a distraction. (There's never a temptation to compare Steve to Dr. House.) A number of high profile actors provide cameos: Laura Linney, Eva Longoria, Robbie Coltrane, Joan Cusack, Michael Palin, and Andy Serkis. However, for such a strongly Christmas-themed motion picture, it's surprising the soundtrack doesn't feature a sprinkling of Christmas carols. Aside from a snippet of Justin Beiber singing "Santa Claus is Comin' to Town" and an unorthodox rendition of "Silent Night," the music is all Harry Gregson-Williams.
The final month of the year is always a strong season for family films, but few can be construed as Christmas films. Big screen Christmas animation is even more rare, with the only two recent standouts being the Robert Zemeckis-directed A Christmas Carol and The Polar Express. Arthur Christmas is lighter and, in some ways, more enjoyable than either of those. With no villain to speak of, this movie allows us to enjoy the journey and the spectacle of the North Pole during its busy season. It also provides some emotionally affecting moments, such as the tender relationship between Arthur and Santa - son and father, and the delight of a little girl opening her present. When listing top animated studios, one must place Pixar at the summit (even after the misfire of Cars 2) but, with each release, Aardman narrows the gap. When my son is old enough to appreciate Christmas movies, Arthur Christmas will be among those I plan to show him.
---
Arthur Christmas (United Kingdom/United States, 2011)
---
Three...better movies of this genre
worse movies of this genre
Three...better movies of (voices) James McAvoy
(There are no more better movies of (voices) James McAvoy)
worse movies of (voices) James McAvoy
(There are no more worst movies of (voices) James McAvoy)
Three...better movies of Hugh Laurie
(There are no more better movies of Hugh Laurie)
worse movies of Hugh Laurie
Three...better movies of Bill Nighy
worse movies of Bill Nighy