Personal History of David Copperfield, The (United Kingdom/United States, 2019)
August 27, 2020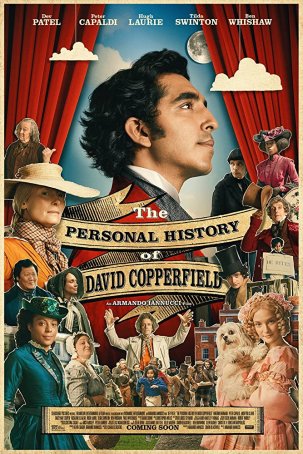 As long as there will be movies, new adaptations of beloved classics will follow. The important aspect for every director to remember is to find a unique angle – a change in tone, a different slant to the narrative, a shift in setting, etc. Creating a copy is boring but crafting a new, fresh interpretation can enliven a seemingly familiar story with an unexpected energy. With The Personal History of David Copperfield, director Armondo Iannucci has illustrated that all the possibilities have not yet been exhausted for Dickens' David Copperfield.

Iannucci's "twist" is that he has transformed Dickens' timeless melodrama into a comedy. Oh, there are still dramatic moments sprinkled throughout, but Iannucci doesn't view the source material as sacred. He cuts and dices and reworks until he comes up with something that is recognizably David Copperfield yet at the same time something wholly different. As one might expect from the director of such delightfully off-kilter productions like In the Loop and The Death of Stalin, The Personal History of David Copperfield can be deliciously, viciously devious in its pursuit of laughter. (Consider, for example, the comeuppance granted to Gwendoline Christie's Jane Murdstone – pretty gruesome for a PG-rated movie.)

Narratively, The Personal Life of David Copperfield faithfully tracks the Dickens novel (at least to a point). It starts with David as a boy and follows his life, with all its ups and downs, into middle age. Along the way, he has to cope with the cruelty and spite of his stepfather, Murdstone (Darren Boyd), and his spinster sister, Jane (Gwendoline Christie). After being exiled to London, David stays with con-man Mr. Micawber (Peter Capaldi) until the latter is sent to debtors' prison. He then finds refuge with his only living relative, Betsey Trotwood (a typically weird Tilda Swinton), whose cousin, the deranged Mr. Dick (Hugh Laurie), lives with her.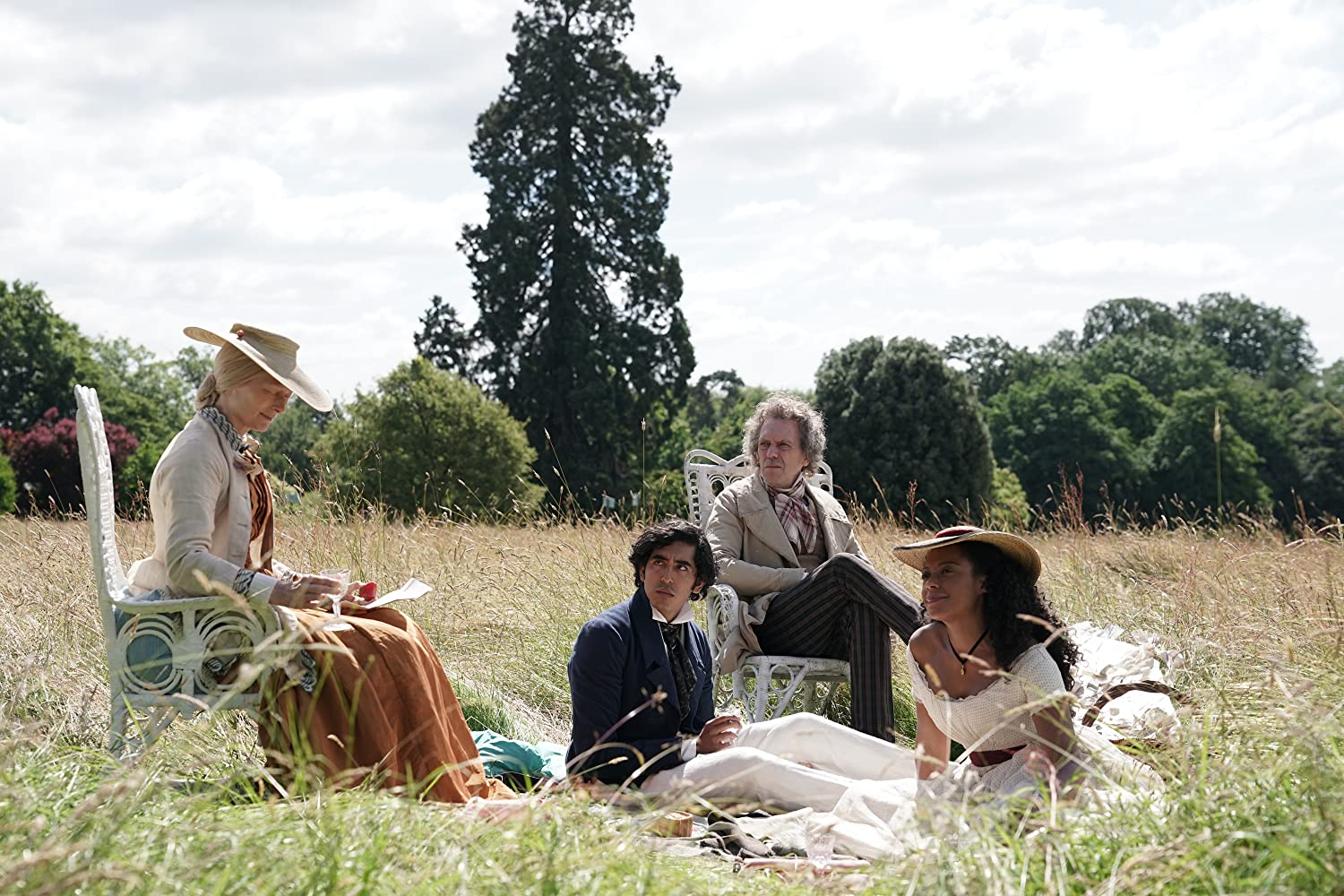 Great Aunt Betsey sends David to a highly respected school for boys. While there, he finds friends, such as Agnes Wickfield (Rosalind Eleazar) and the preening Steerforth (Aneurin Barnard), and enemies like the sneering Uriah Heep (Ben Whishaw). He falls in love with the attractive-but-dim Dora Spenlow (Morfydd Clark in a double performance – she also plays David's mother, Clara, early in the movie), but tragedy strikes and results in David finding his true path in life and the one who is destined to accompany him on it.

The first and most obvious change (aside from the complete reworking of the tone) made by Iannucci is to cast non-standard, ethnically diverse actors in important roles. Dev Patel takes on the role of the adult David. Rosalind Eleazar, who is dark-skinned, plays Agnes. And Benedict Wong essays the frequently inebriated Mr. Wickfield. There's more to Iannucci's color-blind casting than pandering; his goal is to illustrate the universality of Dickens' characters – it's a method not unlike Lin-Manuel Miranda's approach to Hamilton, albeit with fictional individuals rather than real-life people. Matched with the humorous, satirical style, the unconventional casting opens up the film to an audience beyond the usual art-house crowd. This is not your grandmother's David Copperfield.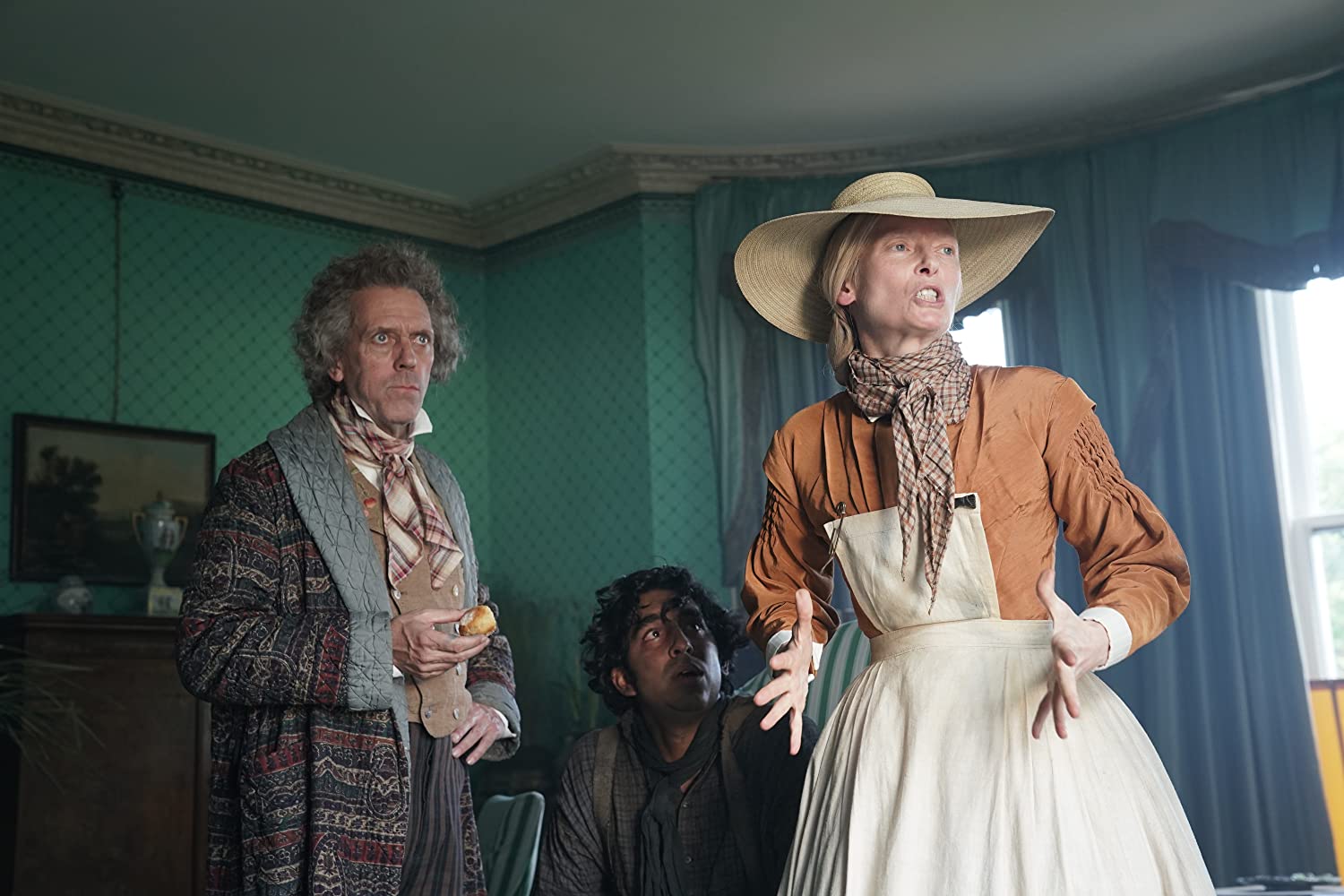 Not everything works, however. One of the problems with adopting this heretical approach is that the serious moments lose their impact. Another is that the ending feels rushed. It's as if, recognizing that things are running too long, Iannucci crams the resolution of multiple plot threads into about five minutes. And, in one odd instance, he writes out a character and her associated plot thread…while openly admitting that he's doing so. It's a unique way of dealing with a troublesome plotline but it may give purists agita.

Although The Personal History of David Copperfield and Greta Gerwig's Little Women were developed independently, both share the common trait of having the lead character be an author telling their story. So, although the tale-within-the-tale follows the published text, the filmmakers can "color outside the lines" with the framing story. In Little Women, this allowed Jo's life to have multiple endings. Something similar happens in The Personal History of David Copperfield. However, it's anyone's guess whether the character of Dora is a "real" person or just a fictitious creation who doesn't fit. (The decision to have Morfydd Clark play her and therefore create an unmistakable similarity to David's mother, opens up all sorts of Oedipal questions.)

The best thing about new interpretations of classic novels where directors take extreme liberties with the source material is that they develop a sense of unpredictability. The flip side is, of course, that straying too far from the official text can disappoint devotees if particular secondary stories are left out. It's impossible for a long novel to be rigorously and faithfully adapted into a two-hour movie. Filmmakers who try that approach often end up with a mess. By taking a different road, Iannucci has provided something that captures the essence of David Copperfield without being constrained by every detail.
---
Personal History of David Copperfield, The (United Kingdom/United States, 2019)
Director:
Armondo Iannucci
Cast:
Dev Patel
,
Tilda Swinton
,
Hugh Laurie
,
Peter Capaldi
,
Morfydd Clark
,
Rosalind Eleazar
,
Ben Whishaw
,
Benedict Wong
,
Darren Boyd
,
Gwendoline Christie
Screenplay:
Simon Blackwell and Armondo Iannucci, based on the novel by Charles Dickens
Cinematography:
Zac Nicholson
Music:
Christopher Willis
U.S. Distributor: Searchlight Pictures
Run Time: 1:59
U.S. Release Date: 2020-08-28
MPAA Rating:
"PG"
Genre:
Drama/Comedy
Subtitles: none
Theatrical Aspect Ratio: 2.35:1
---
Three...better movies of this genre
worse movies of this genre
Three...better movies of Dev Patel
worse movies of Dev Patel
Three...better movies of Tilda Swinton
worse movies of Tilda Swinton
Three...better movies of Hugh Laurie
(There are no more better movies of Hugh Laurie)
worse movies of Hugh Laurie