Blue Jasmine (United States, 2013)
August 09, 2013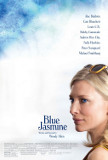 It's all about Cate. Blue Jasmine, Woody Allen's latest, is a loose reworking of Tennessee Williams' A Streetcar Named Desire. It's narratively uneven but the occasional lapses of focus are rescued by Cate Blanchett's riveting lead performance. The actress' work here is so good that it effectively launches the 2014 Oscar nomination season. It's hard to imagine Blanchett not being acknowledged by the Academy for her work here, especially considering AMPAS' fondness for the writer/director.
In actuality, this feels less like "a Woody Allen film" than anything the director has made since Match Point. It's another case of Allen diversifying both geographically and stylistically. Although the screenplay contains elements of dark comedy and is good for a few (uneasy) laughs, it's far more serious and less whimsical than Allen's usual fare. He's not on autopilot here. And, although the main character has what could euphemistically be called "mental issues," she doesn't evidence the usual Allen angst/neuroses. She's too far off the deep end for that. While Allen's hometown represents the setting for flashbacks that consume nearly 50% of the running time, the main story transpires in San Francisco, making this the first instance since the 1970s when the filmmaker's first-unit production has taken place in a U.S. location outside the New York City metro area.
Destitute and disillusioned, Blanchett's Jasmine arrives in San Francisco to move in with her sister, Ginger (Sally Hawkins). As houseguests go, it's hard to think of someone worse than Jasmine. After disparaging Ginger's apartment due to its size and décor, she makes unflattering remarks about her sister's current boyfriend, Chili (Bobby Cannavale), who, in her opinion, is only a small improvement over her abusive ex-husband, Augie (Andrew Dice Clay).
Facing reality is hard for Jasmine. Once the pampered wife of Wall Street wizard Hal (Alec Baldwin), she has seen her entire life crumble around her. Hal, caught by the FBI for illegal activities, hanged himself rather than face a life prison term, and the government confiscated everything, leaving Jasmine without a home or money. Her only option was to move in with Ginger in a place where she knows no one and in a situation she believes to be beneath her. Circumstances also demand she get a job - something she's unfamiliar with. "Trophy wife to a crook" isn't a qualification many employers are in search of.
Jasmine is a brilliantly multi-layered character. Although she's not an anti-hero in the traditional sense, she does harm wherever she goes, sometimes through ignorance and sometimes because she's too shallow to care. But she's a deeply tragic person and we often see this. She's subject to panic attacks and resembles a drowning woman clutching at straws. The façade she shows to others is brittle and easily shattered; beneath it is a sad and desperate woman.
Allen has surrounded Blanchett with a group of expert supporting players: the always-reliable Sally Hawkins who, like the star, has adopted an American accent; Peter Sarsgaard playing a potential suitor who's unaware of Jasmine's past; and Alec Baldwin comfortably essaying the smooth operator whose conniving and infidelity pave the path to his downfall. If there's a surprise, however, it's Andrew Dice Clay. Making his first motion picture appearance in more than a decade, the once bad-boy comedian shows both acting chops and screen presence as one half of the role that was Stanley in Streetcar.
The way Allen has chosen to restructure Williams' play considerably reduces the most memorable aspect of Streetcar: the Blanche/Stanley dynamic. Here, with Stanley split in two (Clay is Ginger's ex-husband and Bobby Cannivale is her current boyfriend), there's not much juice in that interaction, and no sexual tension whatsoever. By default, this becomes Blanche/Jasmine's movie and the narrative drifts aimlessly along with her. Blue Jasmine is an exercise in examining the lead character's mental degeneration. The end result, a performance-driven character study, offers an experience more akin to what one might expect from the late John Cassavetes than from the still very much alive Woody Allen.
---
Blue Jasmine (United States, 2013)
---
Three...better movies of this genre
worse movies of this genre
Three...better movies of Cate Blanchett
worse movies of Cate Blanchett
Three...better movies of Sally Hawkins
worse movies of Sally Hawkins
Three...better movies of Alec Baldwin
worse movies of Alec Baldwin