Can You Ever Forgive Me? (United States, 2018)
November 02, 2018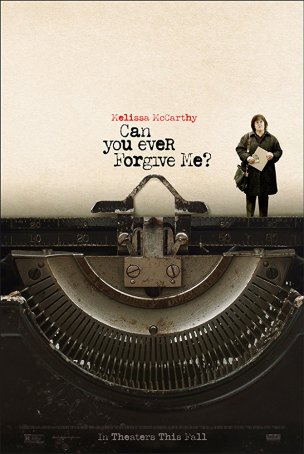 It's the early 1990s and Lee Israel (Melissa McCarthy) is already well past her sell-by date. An author specializing in biographies (she once landed on the New York Times bestseller list for one she wrote about game show panelist Dorothy Kilgallen), Lee is finding it increasingly difficult to uncover anyone interested in her work and her latest project about Fanny Brice is languishing. A pugnacious misanthrope, she has alienated virtually everyone except her flamboyantly gay best friend, Jack Hock (Richard E. Grant), whose claim to fame is having pissed in a coat closet during a bender after mistaking it for the lavatory. This is the character comedienne Melissa McCarthy has been asked to play in director Marielle Heller's Can You Ever Forgive Me? She does so with distinction. It's the best performance of McCarthy's career, topping the one she gave in St. Vincent.
Today, to the extent that the name of "Lee Israel" is known, it's more for the woman's audacious spree of forgeries than for her books. Broke and unable to get her editor (Jane Curtain) to take her calls, Lee stumbles on a scheme that provides her with a steady income. By forging letters supposedly written by the likes of Noel Coward and Dorothy Parker, she is able to attract the interest of collectors and, in some instances, make as much as $400 for a few hours' work. Later, when authenticity becomes an issue, she resorts to stealing actual missives from libraries and archives (and replacing them with forgeries so they won't be "missed").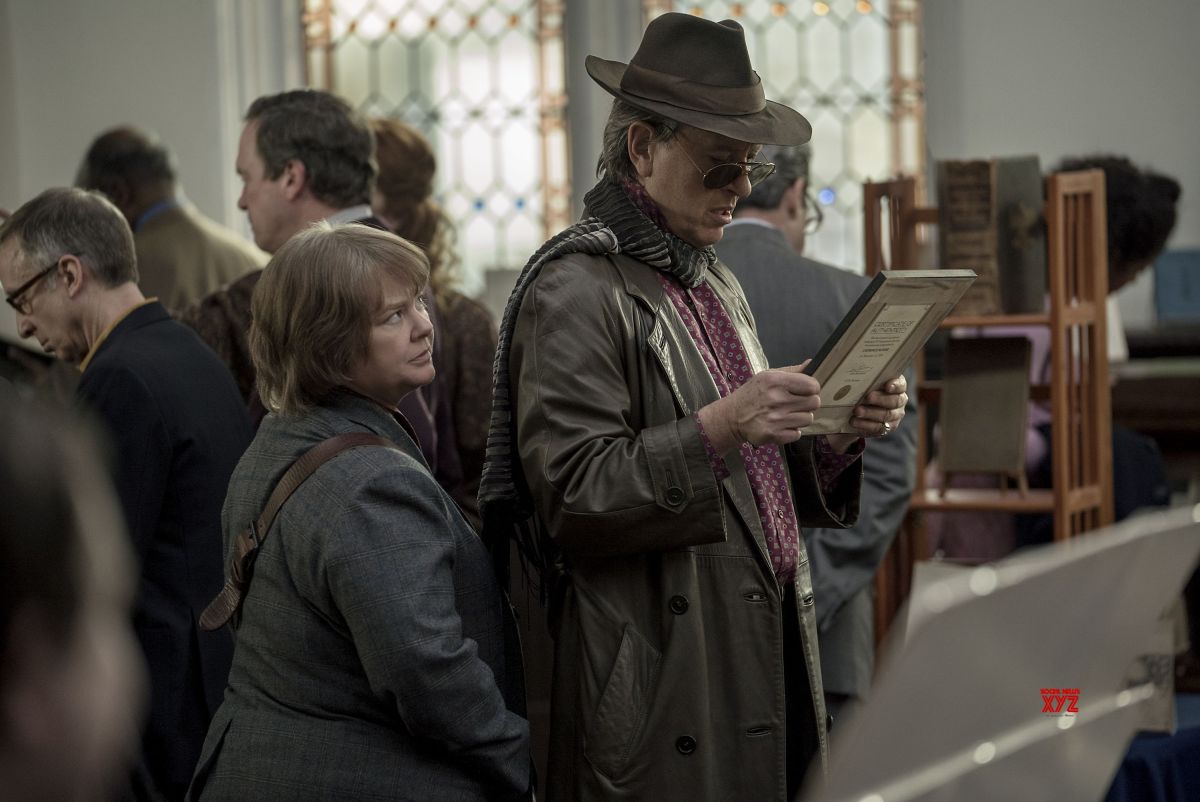 The screenplay, co-credited to filmmaker Nicole Holofcener (who was at one time attached to direct) and Jeff Whitty, oozes cynical wit and dark comedy. McCarthy plays it straight, allowing her talent as an actress – often hidden under the dreck for which she draws big paychecks – to shine through. She develops Lee into a three-dimensional individual – brittle but also vulnerable and sympathetic. The acquaintanceship Lee forms with a shy bookseller (Dolly Wells) and her inability to build it into something substantive shows the depth of her social awkwardness.
Can You Ever Forgive Me? – the title, although a horrible miscalculation for a movie name, is taken from Lee's book – is essentially a two-character piece. More than 50% of the movie features dialogue between Lee and Jack. As played with charm and a hint of devilishness by character actor Richard E. Grant, he's the perfect foil for the bitter, inward-focused author. The two delight in throwing zingers at one other until circumstances become serious and the friendship turns sour.
Marielle Heller, whose previous work includes the biting and insightful The Diary of a Teenage Girl (and who is currently prepping the Tom Hanks Mr. Rogers project), makes New York City into an intimate place and manages the difficult task of exploring the subject of writing (not an inherently cinematic thing) without becoming didactic or putting the audience to sleep. There's an element of satire in the way Can You Ever Forgive Me? approaches the small, exclusive world of collectors and collectables, insinuating that sometimes "authenticity" is less important than bragging rights. Low-key and unassuming, the movie proves to be one of the better indies currently vying for mid-autumn attention.
---
Can You Ever Forgive Me? (United States, 2018)
Run Time: 1:46
U.S. Release Date: 2018-10-26
MPAA Rating:
"R" (Profanity)
Genre:
Drama/Comedy
Subtitles: none
Theatrical Aspect Ratio: 2.35:1
---

Three...better movies of this genre
worse movies of this genre
Three...better movies of Melissa McCarthy
(There are no more better movies of Melissa McCarthy)
worse movies of Melissa McCarthy
Three...better movies of Richard E. Grant
worse movies of Richard E. Grant
Three...better movies of Dolly Wells
(There are no more better movies of Dolly Wells)
worse movies of Dolly Wells
(There are no more worst movies of Dolly Wells)