Cesar Chavez (United States/Mexico, 2014)
March 27, 2014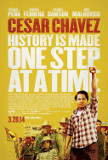 It's hard to actively dislike Cesar Chavez, Diego Luna's bio-pic of Cesar Chavez, the co-founder of the National Farm Workers Association. Chavez looms large in the pantheon of 1960s/70s Civil Rights activists and the movie gives him his due, attempting to fuse together elements of his public persona with his uneven home life. The result, while inspirational, falls into the category of a conventional account of a great man. Cesar Chavez hits all the right notes but never attempts anything rash, daring, or extraordinary. The performances are solid but I walked out of the theater thinking I might have been equally edified and entertained reading the man's Wikipedia entry.
Cesar Chavez takes a "highlight reel" approach to the main character's life. Portrayed with quiet intensity by actor Michael Pena, Cesar comes across as a caring, decent individual whose primary concern is for the workers he represents - migrants who toil in the fields of California's vineyards for poverty-level wages. When we first encounter him in the early 1960s, Cesar is just beginning his crusade. Over the years, he and his co-worker, Dolores Huerta (Rosario Dawson), emerge from obscurity to capture the attention first of a local sheriff (Michael Cudlitz) and estate owner Bogdanovitch (John Malkovich). Cesar and Dolores threaten picket lines and work stoppages then, after those are broken by Bogdanovitch by busing in illegal immigrants, they move on to other measures, such as boycotts. When members of the organization advocate fighting violence with violence, Cesar embarks upon a 25-day hunger strike until everyone in the National Farm Workers Association signs a non-violence pact. Cesar's advocacy captures the attention of Robert Kennedy but it loses traction during the early days of the Nixon administration before Cesar takes the struggle overseas.
Cesar Chavez has an obvious political viewpoint, but that's not surprising for a motion picture about a man who was in constant conflict with Republican standard-bearers. Neither Nixon (who was president) nor Ronald Reagan (California governor) is presented positively. Both are depicted only in black-and-white newsreel footage while RFK's portrayal by actor Jack Holmes allows him to interact with the cast. The screenplay for Cesar Chavez comes close to hero worship. The only blemish on Cesar's character is his inability to connect with his son, Fernando (Eli Vargas). Other than that, his representation is almost inhuman in its kindness and generosity of spirit.
There's not much to strongly like or dislike about Cesar Chavez. Depending on your perspective, its earnestness is either a strength or an albatross. There are potential viewers who will love or hate the film not based on its merits but on its political leanings. Actor-turned-director Diego Luna makes it apparent that he views Cesar in an unambiguously positive light and, while that might work well in Civil Rights discussions, it doesn't necessarily make for the most compelling drama. The movie's depictions of race-based inequities serve as reminders of how far we have come since the 1960s but other, more powerful films (like Malcolm X and Mississippi Burning) have mined similar territory to greater effect. There are times when one senses that the desire to be respectful trumps everything else, including dramatic thrust. In the final analysis, while Cesar Chavez can be viewed as a useful educational tool for those unfamiliar with the title character or the circumstances that transformed him into a figure of greatness, it's only moderately successful as a slice of dramatic cinema.
---
Cesar Chavez (United States/Mexico, 2014)
Run Time: 1:41
U.S. Release Date: 2014-03-28
MPAA Rating:
"PG-13" (Violence, Profanity)
Genre:
DRAMA
Subtitles: English and Spanish with English subtitles
Theatrical Aspect Ratio: 2.35:1
---
Three...better movies of this genre
worse movies of this genre
Three...better movies of Michael Pena
worse movies of Michael Pena
Three...better movies of Rosario Dawson
worse movies of Rosario Dawson
Three...better movies of America Ferrera
worse movies of America Ferrera
(There are no more worst movies of America Ferrera)