Coraline (United States, 2009)
February 06, 2009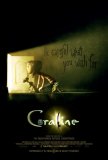 Henry Selick has a particular sensibility and, when choosing material for his movies, he seeks stories that fit into the slightly twisted, quasi-fairy tale realm where he feels comfortable working. Thus, in the past, he has collaborated with Tim Burton and adapted Roald Dahl. Coraline, his fourth feature film, uses a short book by Neil Gaiman as its inspiration. Employing stop-motion animation that renders human beings with the distinctive characteristics evident in both The Nightmare Before Christmas and James and the Giant Peach, Selick finds the perfect look to bring Gaiman's vision to life. The resulting tale may owe a little to "Hansel and Gretel" and "Alice in Wonderland," but ultimately stands on its own.
It's a mark of any good 3D movie that it can be watched and enjoyed on its own merits when projected in 2D, and that's the case here. In fact, the 3D effects are in many cases subtle enough that it's questionable whether the benefits of seeing the movie in 3D are worth the drawbacks (limited availability, a dimmer picture, more expensive tickets, and uncomfortable glasses). Coraline does not employ an "in your face" approach to 3D. It uses the tool to provide a sense of greater depth but rarely do things pop off the screen (except during the climax). There's nothing in this film that demands that it be watched in 3D.
The movie tells the story of a blue-haired young girl by the name of Coraline Jones (voice of Dakota Fanning), who has moved to an out-of-the-way, 150-year old mansion in Oregon. Unlike the usual animated heroine, she's not sugar and spice and everything nice; Coraline has a nasty side that peeks through at times (most notably in her treatment of others). Her mother (Teri Hatcher) and father (John Hodgman) are writers with little time for their daughter, so Coraline is left on her own to explore the house and its grounds. She meets the next-door neighbor, Wybie Lovat (Robert Bailey Jr.) and his cat; the strange "sisters" (Jennifer Saunders and Dawn French) living on the lower level of the 3-apartment mansion; and the "circus man," Mr. Bobinsky (Ian McShane), living on the upper storey. One day, Coraline discovers a hidden door that appears to lead nowhere; the opening has been bricked up. That night, however, a portal opens behind the door that transports Coraline to a strange world of unsuspected wonders, where her "Other Mother" and "Other Father" are interested in only pleasing her and things are warm, beautiful, and colorful. But the time-honored cliché applies: If it looks too good to be true, it probably is.
Selick's animated style is almost smooth enough to be mistaken for CGI, but there's a texture to the approach that betrays it as being a little more labor intensive (watch the cat's fur, especially in its first scene). Kids likely won't notice the difference, but adults will appreciate that the movie doesn't feel like a generic clone of the animated product that studios are pumping out with regularity. Selick's bizarre streak is given ample opportunity to be on display. His tendencies to favor gothic backdrops and to develop his characters in such a way that they look like they have emerged from an Edward Gorey illustration makes the film potentially intense for young, nightmare-prone children. This is the basis for the PG (not G) rating.
The plot is interesting enough to involve viewers of all ages. Despite the incorporation of familiar elements, it provides some surprises and the narrative trajectory is not predictable from start to finish. The vocal characterizations, mostly provided by actors without distinctive voices, are strong. Dakota Fanning makes the young heroine instantly likeable and Teri Hatcher has no difficulty with aspects of her role that force her into Wicked Witch territory. Selick may have incorporated a little of Fanning and Hatcher's looks into their animated counterparts, although nothing is overt.
Like all effective fables, Coraline isn't only for children, although it would, I suspect, work as a bed-time story. One of my biggest problems with many animated movies is that they are pitched at an intellectual level below me, but I didn't feel that way about Coraline. The film has been crafted with a consideration that the best family movies appeal not only to a young target audience but to the parents who accompany their offspring to theaters. And, while the 3D experience may make Coraline a little more eye-catching, it is by no means mandatory for those wishing to enjoy what this visually intriguing production has to offer.
---
Coraline (United States, 2009)
---
Three...better movies of this genre
worse movies of this genre
Three...better movies of (voices) Dakota Fanning
(There are no more better movies of (voices) Dakota Fanning)
worse movies of (voices) Dakota Fanning
(There are no more worst movies of (voices) Dakota Fanning)
Three...better movies of Teri Hatcher
(There are no more better movies of Teri Hatcher)
worse movies of Teri Hatcher
(There are no more worst movies of Teri Hatcher)
Three...better movies of Jennifer Saunders
worse movies of Jennifer Saunders
(There are no more worst movies of Jennifer Saunders)