Debt, The (United States, 2010)
August 30, 2011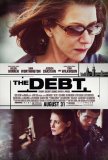 Watching The Debt, I was reminded of how entertaining a well-executed Cold War thriller can be. Although elements of this movie, based on the 2007 Israeli film Ha-Hov, have a kinship to Steven Spielberg's Munich, the overall thrust is more in line with the stripped-down plot from a John Le Carre or Len Deighton novel. Masters of intricate, surprising spy novels, these two arguably crafted the most compelling post-World War II tales of espionage and betrayal to be found on bookstore shelves. The Debt is less complex than anything penned by either man, but it recalls their work and adds its own "twist" with an extended contemporary epilogue (easily the film's weakest element).
The Debt opens in a manner that might confound impatient viewers, skipping back and forth between events in 1966 and 1997. As the story evolves, we recognize that the early moments of the film have provided us with a glimpse of various "highlights" of the overall narrative, which is eventually presented in a fairly straightforward, chronological manner. This includes an "alternative" version of a key incident which illustrates the power of the unreliable narrator in cinema. The misdirection that occurs early in the proceedings enriches the eventual development of the plot.
In 1966, three Mossad agents - Stephan (Marton Csokas), David (Sam Worthington), and Rachel (Jessica Chastain) - are brought together in East Berlin for a secret mission: capture Nazi war criminal Bernhardt (Jesper Christensen), the "Butcher of Birkenau," and deliver him to Israel for public trial. Their plot is audacious and, predictably, things don't go according to plan. Nearly 30 years later, these three gather once again, but the occasion of their reunion is anything but a desire to catch up on old times. Stephan (now Tom Wilkinson) has a secret that needs to be kept unrevealed; David (now Ciaran Hinds) is weighted down by guilt; and Rachel (now Helen Mirren) may have to go back into the field after decades of retirement.
The segments of The Debt that transpire in Cold War East Berlin are by far the most exciting and compelling, and represent director John Madden at his best. This part of the film, which comprises about two-thirds of the running time, crackles with tension. Madden gets the claustrophobic, paranoid feel of 1960s Berlin perfectly. The Iron Curtain is down and the Soviet side of the city is on a slow slide into oblivion. The 1997 sequences have less urgency and the end-game, while not devoid of suspense, feels contrived - the kind of thing one might expect from a writer who needs to provide a (somewhat) tidy conclusion.
The acting is superb across-the-board, with the three younger performers deserving accolades. Martin Csokas, Jessica Chastain (for whom 2011 is a superb "coming out" year that may earn her an Oscar nomination for one of several films), and Sam Worthington display an uneasy chemistry that marks them as confederates and sometimes lovers but not always friends. While their "future selves" - Tom Wilkinson, Ciaran Hinds, Helen Mirren - have been chosen in large part because of their pedigree, they aren't necessarily the best fits for the parts. Old-age makeup, such as that which is applied to Jesper Christensen, might have been a better approach. There's nothing wrong with the acting of Wilkinson, Hinds, and Mirren (Hinds in particular is quite good), but they don't look enough like their younger counterparts for the illusion to be fully effective.
Most thrillers that emphasize suspense over action tend to be rich in atmosphere, and The Debt is no exception. The scenes in East Berlin offer the most stark example of this but even the contemporary Tel Aviv sequences carry an ominous aura. Madden is best known for helming the Oscar-winning Shakespeare in Love, but his background in British TV mystery series (Inspector Morse, Prime Suspect) serve him well in understanding how to use setting to amplify plot, rather than to relegate it into the role of background color. The Debt functions both as an edge-of-the-seat thriller and an effective drama about the sometimes passionate, sometimes contentious relationships among the three main characters. There's also an element of psychological gamesmanship; while Bernhardt is being held captive, he attempts to drive a wedge between his kidnappers. Other movies have done this better, but the flavor here is nevertheless tangy.
Had The Debt done a better job balancing 1997 with 1966, this could have been a great motion picture. As it is, the lack of consistency across time periods and the difficulty reconciling the older characters with their younger counterparts keep The Debt from the upper echelons of its genre. But it's still a worthwhile film, especially considering the barren cinematic wasteland into which it is being released.
---
Debt, The (United States, 2010)
---
Three...better movies of this genre
worse movies of this genre
Three...better movies of Helen Mirren
worse movies of Helen Mirren
Three...better movies of Tom Wilkinson
worse movies of Tom Wilkinson
Three...better movies of Ciaran Hinds
worse movies of Ciaran Hinds