Despicable Me 2 (United States, 2013)
July 02, 2013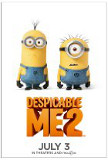 Despicable Me 2 feels like a opportunity to get together with some old friends, hang out, and discover what they've been up to. The movie lacks the high voltage wit of its predecessor but the breezy charm is still in place and, especially for kids, it's a chance to reconnect with characters who made an unexpectedly enduring impact during their introduction. As a nod to the popularity of the robotic Minions, their roles have been upped for this installment. Despicable Me 2 follows the formula for animated success to a "T." There's just enough "smart" material to retain the interest of adults, sufficient slapstick and colorful "action" to keep kids involved, and 3-D to ensure that the box office gross gets a nice bump from the surcharge. Note about the 3-D: it is used mainly to throw things at the audience, a tactic that is employed primarily (and to greatest effect) during the end credits.
The movie starts out an unspecified time following the conclusion of Despicable Me. Former supervillain Gru (voice of Steve Carell) is living a life of domestic simplicity with his three adopted daughters: Margo (Miranda Cosgrove), Agnes (Elsie Fisher), and Edith (Dana Gaier). Instead of ray guns and diabolical schemes, his day-to-day routine now consists of running a legitimate business (making jelly) and planning Agnes' birthday party. Along comes Secret Agent Lucy Wilde (Kristen Wiig) of the Anti-Villain League to recruit Gru for a special assignment. An unknown person has stolen a shipment of a super-secret toxic substance that threatens the world's safety. If injected, it can turn the most passive creature into something that looks like a blue version of the Muppet "Animal" and acts like the Tasmanian Devil (Warner Brothers version). The pompous head of the AVL, big jowled Silas Ramsbottom (Steve Coogan), wants Gru to go undercover with Lucy at a mall and unmask the nefarious miscreant behind the plot.
There's not a lot to Despicable Me 2. The central plot is thin and the storyline frequently veers off on tangents related to Gru's struggle to be a good parent (he's terrified by the thought that his girls, especially Margo, might be discovering boys) and his attempt to kindle a romantic relationship with Lucy. We even get some Gru-as-a-kid flashbacks. There's never much mystery about who the megalomaniac bad guy is nor is the climactic battle filled with more than a thimbleful of suspense. Still, taking everything together, the experience works as light, undemanding entertainment. It's not quite as rich a meal as Monsters University, but it's close.
The satirical element that played such a big part of Despicable Me has been toned down considerably here. There are aspects of it but they remain primarily in the background. Now that Gru has crossed over to join the good guys, there's little room for the frequent send-ups of traditional over-the-top villainous tactics and methods. With some of the freshness dissipated (as often happens with sequels), the screenplay for Despicable Me 2 loses some of the cleverness that colored Despicable Me. However, the writers, Ken Daurio and Cinco Paul, and directors, Pierre Coffin and Chris Renaud, have returned and their familiarity with the characters and their situations ensures that the same tone is maintained.
The look of the film is similar to that of its predecessor, with cartoonishly exaggerated characters influenced by Boris & Natasha and their ilk. These aren't meant to be photo-realistic. And could the red-haired Lucy be at least in part inspired by Lucille Ball? Despicable Me 2 takes place in an animated world and is proud of the fact. There's nothing surprising when a car turns into a submarine or when people fall a long distance then get up and dust themselves off. The colors are bright and, thankfully, the 3-D doesn't ruin that. This is the best use of 3-D in an animated film this year.
Despicable Me 2 is probably the 2013 summer's most hotly anticipated family film (even more so than Monsters University) and the only ones likely to be disappointed are those expecting something bigger and better than Gru's origin story. Like most un-preplanned sequels, this one doesn't veer far from the well-trodden path but that's not always a negative, especially for a family film. Despicable Me 2 provides a good bonding opportunity for parents and children with enough palatable elements to please members of both generations.
---
Despicable Me 2 (United States, 2013)
Director:
Pierre Coffin, Chris Renaud
Cast:
(voices) Steve Carell
,
Kristen Wiig
,
Benjamin Bratt
,
Miranda Cosgrove
,
Russell Brand
,
Ken Jeong
,
Steve Coogan
,
Elsie Fisher
,
Dana Gaier
Screenplay:
Ken Daurio, Cinco Paul
Cinematography:
Music:
Heitor Pereira, Pharrell Williams
U.S. Distributor: Universal Pictures
---
Three...better movies of this genre
worse movies of this genre
Three...better movies of (voices) Steve Carell
(There are no more better movies of (voices) Steve Carell)
worse movies of (voices) Steve Carell
(There are no more worst movies of (voices) Steve Carell)
Three...better movies of Kristen Wiig
(There are no more better movies of Kristen Wiig)
worse movies of Kristen Wiig
Three...better movies of Benjamin Bratt
worse movies of Benjamin Bratt