Everybody's Talking about Jamie (United Kingdom/United States, 2021)
September 09, 2021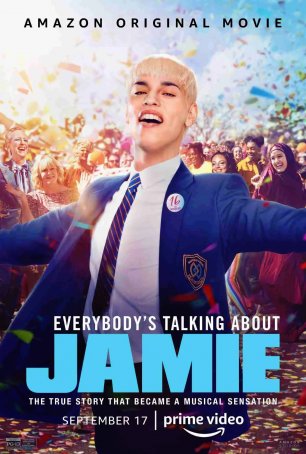 Whether as a result of coincidence or intent, the COVID pandemic has issued in a new era of motion picture musicals. Not since mid-20th century, when Musicals were perennially the biggest earners, has the genre been this popular. Everybody's Talking about Jamie, based on the 2018 stage play of the same name (which, in turn, was inspired by the 2011 BBC documentary, Jamie: Drag Queen at 16), follows in the footsteps of The Adventures of Priscilla, Queen of the Desert and Hedwig and the Angry Inch as musicals that focus on the triumphs and difficulties of life as a drag queen. Perhaps because times have changed (due in no small part to the influence of Ru Paul), this crowd-pleasing offering is arguably the most accessible of the three. Although the climax is a little too fluffy (and tries too hard for a happy ending for all), the production's effervescent quality is counterbalanced by its willingness to wade into deep waters when the narrative demands it.
One of the reasons the film works as well as it does is due to the performance of newcomer Max Harwood. Although 22 when director Jonathan Butterell (also a first-timer, although he directed the stage production) began rolling the cameras, Harwood has no difficulty playing a 16-year-old, riveting attention with his energy and natural charisma. And, although Harwood shines brightest during the song-and-dance numbers, he proves to be capable in the dramatic sequences, which require his character to confront prejudice (usually expressed verbally but sometimes with physical violence) while attempting to discover and assert his true self.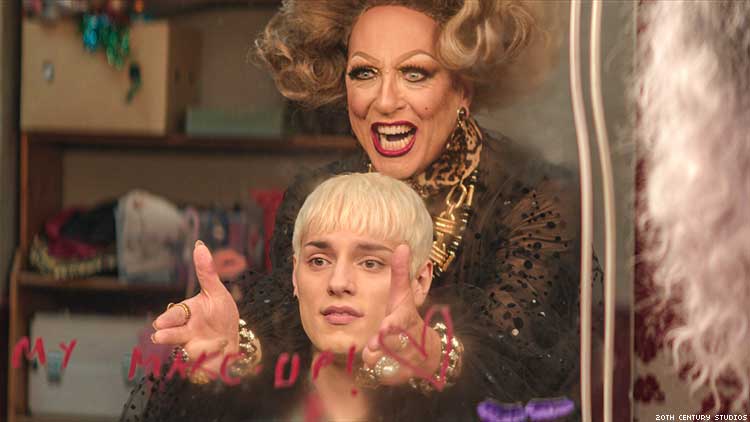 Everybody's Talking about Jamie informs us at the outset that this is based on a true story (with the added disclaimer that "we [added] the singing and dancing"). The title character, Jamie New (Harwood), lives in Sheffield, where he goes to high school. Although already out as being gay, Jamie has not yet revealed his deepest desire to most of his schoolmates: he wants to be a drag queen. That aspiration is known only to his mother, Margaret (Sarah Lancashire); his mother's best friend, Ray (Shobna Gulati); and Jamie's best friend, Pritti (Lauren Patel). He decides to attend the prom in drag. A local dress-shop owner (and former drag queen), Hugo Battersby a.k.a. Loco Chanelle (Richard E. Grant), provides him with pointers and support. His estranged father, Wayne (Ralph Ineson), wants nothing to do with him, and the school bully, Dean Paxton (Samuel Bottomley), redoubles his hateful barbs when he learns of Jamie's plan. Meanwhile, one of the teachers, Miss Hedge (Sharon Horgan), decides that she won't allow Hugo to disrupt the prom by coming in an "inappropriate" wardrobe.
Everybody's Talking about Jamie successfully weds affecting dramatic material with musical numbers. Containing just shy of a dozen songs (several were cut from the stage version in order to hold the running time to under two hours), the film uses a traditional "musical structure" to advance an untraditional story. Although several of the songs are big show-stopping numbers, there are also about a half-dozen less ostentatious, more restrained interludes that advance the story or offer an internal monologue.
Like Hedwig and especially Priscilla before it, Everybody's Talking about Jamie was developed to expand beyond an LGBQT audience. Aspects of the story, especially that of a marginalized, bullied character finding his voice and taking control of his destiny, have universal appeal and the songs were designed to infuse the movie with a joyous (at times, almost giddy) spirit without diminishing the importance of the themes or hijacking the narrative thread. (Made as a non-musical, Everybody's Talking about Jamie would have been a much different film but one still worth seeing. Unlike something along the lines of Mamma Mia!, it's raison d'être isn't the music.)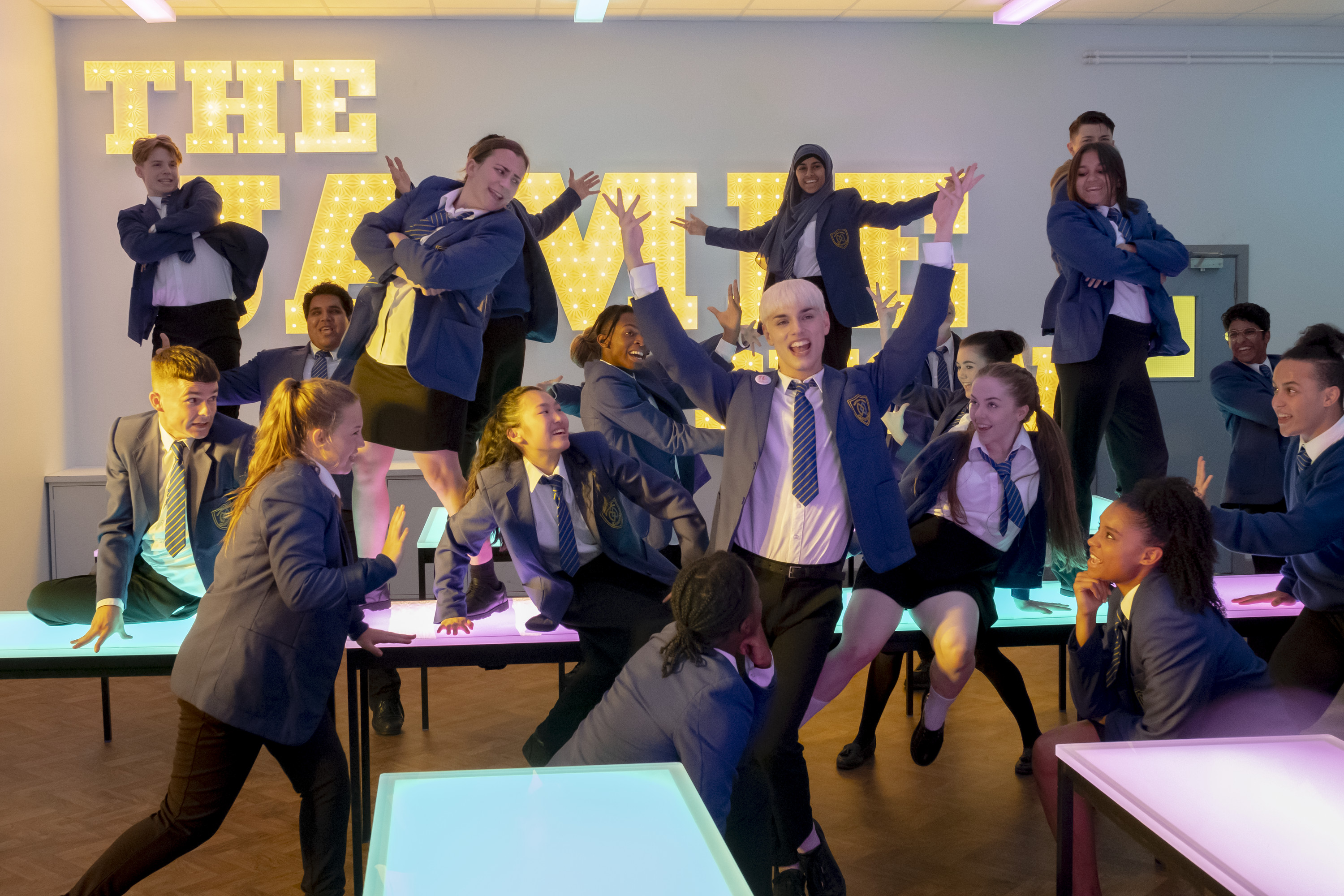 Although many of the primary performers are either newcomers (Max Harwood, Lauren Patel) or unfamiliar faces to an international audience (Sarah Lancashire, who has done an amazing number of British TV shows; Samuel Bottomley), there are a couple of recognizable names: Sharon Horgan and Oscar-nominee Richard E. Grant. Grant digs into his role with relish, providing the film with its second most memorable performance (behind Harwood). Although many of the characters have real-life analogs, Hugo Battersby/Loco Chanelle is entirely fictional.
As with a great many films originally planned for release during the 2020-21 COVID era, Everybody's Talking about Jamie saw multiple date changes and the distribution rights were eventually sold by 20th Century Studios to Amazon Prime. While this means the movie won't see much life on the big-screen, its breadth has dramatically increased. Once it becomes available on the streaming service (starting September 17, 2021), it's more than worth a look. A lively, crowd-pleasing story with heart to go along with the glitter and glitz, it's better than a lot of what's currently available.
---
Everybody's Talking about Jamie (United Kingdom/United States, 2021)
---
Three...better movies of this genre
worse movies of this genre
Three...better movies of Max Harwood
(There are no more better movies of Max Harwood)
worse movies of Max Harwood
(There are no more worst movies of Max Harwood)
Three...better movies of Lauren Patel
(There are no more better movies of Lauren Patel)
worse movies of Lauren Patel
(There are no more worst movies of Lauren Patel)
Three...better movies of Richard E. Grant
worse movies of Richard E. Grant