Heartbreaker (France, 2010)
September 10, 2010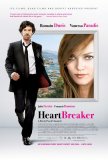 Watching Heartbreaker is like observing a bizarre cinematic experiment: what might occur if the French attempted to make an American-style romantic comedy. Whether it's a success depends on your point-of-view. The only thing to keep director Pascal Chaumeil's feature out of multiplexes is the presence of subtitles - something that creates an incompatibility with the majority base audience. Other than that, this is as mainstream as a foreign film can be, right down to the cheesy '80s music, the lame comedy, and the love-conquers-all ending. There are minimal surprises, no oh-so-French introspection, and little that would ever be considered pretentious. In short, this is Chaumeil's attempt to apply French actors, French locations, and a French script to a Hollywood, formula-driven template. The result, although not entirely unpleasant, is a bit of a letdown. If I want a generic romantic comedy, I'd prefer not to read subtitles.
Heartbreaker focuses on Alex Lippi (Romain Duris), who's in the business of breaking up couples. (Consider him the Anti-Hitch.) For a fee, he'll step in, seduce the woman, and convince her to leave her current partner. He's an ethical businessman, however, and has certain standards. Kissing and caressing is okay, but he'll never sleep with a target. Also, he'll only break up unhappy couples. If a man and women are genuinely in love, he won't come between them. Alex is joined in his endeavor by his sister, Melanie (Julie Ferrer), and her husband, Marc (François Damiens). Melanie does all the on-the-spot reconnaissance and Marc is the computer expert. The job is satisfying but also costly. Despite never wanting for business, Alex is deep in debt to a loan shark and his time to pay is almost up.
Alex is offered a difficult assignment but one that, if accomplished, will allow him to clear his debt. The task: sever the relationship between wealthy heiress Juliette Van Der Beck (Vanessa Paradis) and her millionaire fiancé, Jonathan Alcott (Andrew Lincoln). Problem #1: they appear to be honestly devoted to one another. Problem #2: Alex has only ten days in which to complete the job since, by the end of the tenth day, they will have spoken their marriage vows. Problem #3: During the getting-to-know-you phase, most of Alex's usual "tricks" don't work, and he finds that worming his way into Juliette's heart may be a challenge - and could force him to risk falling in love with her.
With a "normal" French film, there might be a degree of suspense about how all this will turn out, but there's not much with Heartbreaker, which doesn't undercut its lightweight tone with a dark or downbeat ending. The plot is non-linear enough that there are a few minor surprises, but the overall trajectory isn't hard to discern. Anyone even slightly familiar with the romantic comedy genre will recognize how the final reel is going to close before the opening credits are done rolling. It's just a question of the specifics.
The film is lively and evidences a fascination with '80s pop - the two signature songs are "Wake Me Up before You Go-Go" by Wham! and "I've Had the Time of My Life" from Dirty Dancing. The two leads, Romain Duris and Vanessa Paradis, are internationally known (although Paradis is arguably more recognizable for her modeling and for her connection to Johnny Depp) and attractive. Their chemistry doesn't smolder but it is at least palpable. These two don't ignite the screen when they're together but there have been worse pairings in recent romances. The connection is strong enough to keep Heartbreaker enjoyable but not on a level that compels the viewer to fall in love with the characters as they fall in love with each other.
The secondary performers - Julie Ferrer, François Damiens, and Héléna Noguerra (as Juliette's nymphomaniac former best friend, Sophie) - provide the lion's share of the comedy which, even at its best, isn't very funny. The highlight of the slapstick hijinks is probably when Marc whacks Sophie on the back of the head then drags her limp body through the halls of a hotel. Maybe the French find this hilarious, but it didn't bring a smile to my face. Ferrer is a nice foil for Duris, but Damiens seems to be filling a role that might have been written with Rob Schneider in mind, and Noguerra is more annoying than amusing.
The strength of a movie like Heartbreaker, or any standard-order romantic comedy, is that it meets audience expectations without ever attempting to exceed them. It's adequate, disposable entertainment, which is okay when the product is languishing in a back theater in a multiplex but below the acceptable line when it's taking up valuable real estate in an art house. Heartbreaker isn't disappointing enough that it will cause pangs of deep regret for anyone who pays to see it in a movie theater, but it will go down more easily as a home viewing option.
---
Heartbreaker (France, 2010)
Run Time: 1:45
U.S. Release Date: 2010-09-10
MPAA Rating:
"NR" (Sexual Content)
Genre:
ROMANCE/COMEDY
Subtitles: In French with English subtitles
Theatrical Aspect Ratio: 2.35:1
---
Three...better movies of this genre
worse movies of this genre
Three...better movies of Romain Duris
(There are no more better movies of Romain Duris)
worse movies of Romain Duris
(There are no more worst movies of Romain Duris)
Three...better movies of Vanessa Paradis
(There are no more better movies of Vanessa Paradis)
worse movies of Vanessa Paradis
(There are no more worst movies of Vanessa Paradis)
Three...better movies of Julie Ferrier
(There are no more better movies of Julie Ferrier)
worse movies of Julie Ferrier
(There are no more worst movies of Julie Ferrier)