Movies with music written by Klaus Badelt 16 Blocks
When I think of director Richard Donner, my mind gravitates toward titles like Superman and Lethal Weapon - high points in the filmmaker's career. Recently, however, Donner's output has been less impressive, and includes the bloated excess of Assa... Catwoman
Without pussyfooting around, I can state that Catwoman is a catastrophe. An amalgamation of bad clichés purr-loined from other, better superhero movies (not that there are many - if any - that can be considered worse), this motion picture is an e...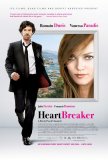 Heartbreaker
Watching Heartbreaker is like observing a bizarre cinematic experiment: what might occur if the French attempted to make an American-style romantic comedy. Whether it's a success depends on your point-of-view. The only thing to keep director Pasca... Miami Vice
The two best words to describe the 2006 motion picture Miami Vice are "stylish" and "intense." One of those descriptors without the other could lead one to suspect a pretentious bore or a pointless exercise in action but, by pairing them, writer/d... Pirates of the Caribbean: The Curse of the Black Pearl
For those taking a global view of Pirates of the Caribbean: The Curse of the Black Pearl, it's very easy to be cynical. This is, after all, cross-promotion at its most blatant. What could be more marketable that one of Disney's most popular theme... Poseidon
Irwin Allen would be proud. Poseidon is a throwback - a 1970s-style disaster film made with 2006-era special effects. The movie delivers in most of the ways that matter for a motion picture of this ilk, with Poseidon never trying to be something ... Premonition
Time travel movies meddle with paradoxes and causality - these things lie at the core of their essential fascination. The difference between a good time travel movie and a bad one often rests with one simple quality: Having established a set of "... Promise, The
Chen Kaige's The Promise is a beautiful film, filled with stylized, CGI-enhanced foregrounds and backgrounds that look like they were lifted directly from fairy tale-inspired paintings. There's not much about the look of The Promise that's realist... Rescue Dawn
Rescue Dawn, which transpires in southeast Asia during 1965, makes three things perfectly clear. First, director Werner Herzog is obsessed with the story of Dieter Dengler. Second, Herzog loves making movies about men with a tenuous grasp on sanity... Ultraviolet
Kudos to Sony for not holding advance screenings of Ultraviolet. This is the kind of crap you want to keep away from critics. Masochist that I am, I went to see this on my own dime, and regret every cent spent to gain admission to the theater. T...