Movies starring Freddy Rodriguez Dreamer
While many movies claim to be based on true stories, Dreamer takes it one step further. The film's official name is Dreamer: Inspired by a True Story. The word "inspired" allows a lot of creative license. In fact, very little of what happens in ... Grindhouse
The term "grindhouse" refers to a specific type of '60s and '70s exploitation film: the sex-and-gore soaked fare that played in run-down urban cinemas and drive-in theaters. With their consistently poor production values and often horrifically bad ... Harsh Times
First and foremost, Harsh Times is a character study of a man whose psychotic dark side is rising up to dominate his personality. However, it's also a look at how war, because of its need to legitimatize killing and turn people into weapons, can r... Lady in the Water, The
When you consider a modern day fairy tale, no matter how twisted, ideal descriptions include "enchanting," "engaging," and "magical." They do not include "silly," "ridiculous," and "laughable." Unfortunately, in the case of Lady in the Water, the...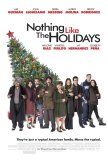 Nothing Like the Holidays
There are generally two kinds of Christmas movies: those designed for family audiences and those that should probably have aired on the Hallmark Channel instead of opening in a movie theater. Nothing Like the Holidays belongs in the latter categor... Poseidon
Irwin Allen would be proud. Poseidon is a throwback - a 1970s-style disaster film made with 2006-era special effects. The movie delivers in most of the ways that matter for a motion picture of this ilk, with Poseidon never trying to be something ...