Movies starring Mos Def 16 Blocks
When I think of director Richard Donner, my mind gravitates toward titles like Superman and Lethal Weapon - high points in the filmmaker's career. Recently, however, Donner's output has been less impressive, and includes the bloated excess of Assa... Be Kind Rewind
Despite some solid laughs and a feel-good ending, Michael Gondry's Be Kind Rewind exists far from the mainstream and its appeal will be limited to those who embrace the kind of awkward quirkiness that defines the production. This comedy/fantasy/dra...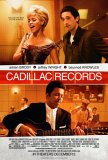 Cadillac Records
Cadillac Records, while not a "musical" in the traditional sense, is close to 50% musical content and 50% drama. Accordingly, it's about 50% good and 50% bad. The re-creations of some of the most noteworthy blues and early rock tunes from the '50... Hitchhiker's Guide to the Galaxy, The
For those who are fans of Douglas Adams' Hitchhiker's five-book "trilogy," I have two words of advice: Don't Panic! The 2005 film version of the book isn't nearly as bad as many Hitchhiker's lovers have feared. Of course, it's also not as good as i... Italian Job, The
The 2003 version of The Italian Job is less of a straightforward remake of the 1969 picture than it is a complete re-interpretation. Enough has changed that it's possible to see the two films not as the same story separated by three decades, but a... Woodsman, The
Note: This review contains spoilers. If you wish to have a virgin movie-going experience, return to the review after having seen the film. For obvious reasons, there aren't many movies about pedophiles or pedophilia. To date, the best-known of ...