Cadillac Records (United States, 2008)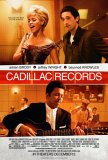 Cadillac Records, while not a "musical" in the traditional sense, is close to 50% musical content and 50% drama. Accordingly, it's about 50% good and 50% bad. The re-creations of some of the most noteworthy blues and early rock tunes from the '50s and '60s feature high-energy performances that do the originals proud. Sadly, the drama that accompanies them is hackneyed and poorly paced - the kind of thing that makes the average made-for-TV movie appear well constructed. There are plenty of small pleasures to be found throughout Darnell Martin's feature, but a compelling storyline featuring three-dimensional characters is not among them.
Cadillac Records is loosely based on actual events, but it takes significant liberties with the established record. It begins in the early 1950s in Chicago with the establishment of the Chess Record company and ends some two decades later when the label's owner, Leonard Chess (Adrien Brody), sells. The film provides various highlights, in compilation-album style, of some of Chess' most memorable performers over the period when Leonard owned the label: Muddy Waters (Jeffrey Wright), Little Walter (Columbus Short), Howlin' Wolf (Eamonn Walker), Chuck Berry (Mos Def), and Etta James (Beyoncé Knowles). Many of these individuals are given short, dramatic arcs but none has enough screen time to develop much of personality or a bond with the audience.
The music offers the soundtrack of its two decades, with Jeffrey Wright covering Waters' "I'm a Man" and "I'm Your Hoochie Coochie Man"; Beyoncé doing James' "I'd Rather Go Blind," "Once in a Lifetime," and the iconic "At Last." Mos Def contributes Berry's "Maybelline," "Nadine," and "No Particular Place to Go." Many of the songs are given full performances rather than brief 30-second clips. Stars like Wright and Beyoncé prove themselves able to handle both the singing and acting needs of their roles although, to be sure, the latter aspects are not taxing. Adrien Brody comes off worse than either, but that's probably because he isn't given an opportunity to sing.
One apparent problem with Martin's film is that there's too much material to be crammed into a 110-minute motion picture. The scope is overly ambitious, the net too is too wide. It would have been challenging to pick one of Cadillac Records' cast of big names and present a coherent , comprehensive motion picture with similar time constraints, but by choosing to place a half-dozen figures under the umbrella and include all the music, Martin has set herself up for failure. The movie is a mess but, in large part because of the music, it is something of an entertaining mess.
There are a few moving scenes. One features Muddy Waters' wife (Gabrielle Union) silently weeping while holding his child by another woman. She loves her husband and is willing to look the other way even for an infraction this deep. It causes one to wonder more about the mechanics of their marriage, but the film moves on at breakneck speed. Likewise, we are left to wonder about the depth of the affection between Leonard Chess and Etta James. We're provided with glimpses of it, most notably when he's trying to keep her alert after a heroin overdose but, like everything else, it is given short shrift.
Cedric the Entertainer, playing Willie Dixon, provides a retrospective voiceover that ties everything together. Every once in a while, his omniscient voice provides some needed transitional information, but this is a rare occasion when a little more narration might have helped. Cadillac Records exists mainly as a holiday throw-away for those with a deep and abiding love for the kind of music it showcases. Those looking for solid drama or complex song-and-dance choreography won't find it here. But for lovers of Muddy Waters, Chuck Berry, and Etta James, there's enough to justify the price of a ticket. Or perhaps a better choice might be to spend roughly the same amount on a copy of the soundtrack.
---
Cadillac Records (United States, 2008)
---
Three...better movies of this genre
worse movies of this genre
Three...better movies of Adrien Brody
worse movies of Adrien Brody
Three...better movies of Jeffrey Wright
worse movies of Jeffrey Wright
Three...better movies of Gabrielle Union
(There are no more better movies of Gabrielle Union)
worse movies of Gabrielle Union