Casino Royale (United States/United Kingdom/Czech Republic, 2006)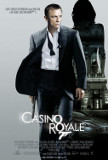 When Pierce Brosnan took over the role of James Bond for Goldeneye, much was made about how the franchise was being "modernized." In reality, the only apparent changes were cosmetic. Brosnan's 007 was easily connected to the character previously played by Sean Connery, George Lazenby, Roger Moore, and Timothy Dalton. With the ascension of Daniel Craig to the gun, tux, martini, and license to kill, seismic changes have occurred. This is no longer the James Bond we know from the '60s, '70s, '80s, and '90s. Welcome to the new world of MI6's most storied agent.
The purpose of Casino Royale is to "re-boot" the franchise. Craig isn't succeeding Brosnan; he's re-inventing the role. As far as this movie is concerned, nothing in the previous 20 entries has happened. This is Bond's "origin" story and the only thin bit of continuity is Judi Dench's return as Madam M. Forget everything you think you know about 007. For years now, the Bond formula has been drowning in a sea of rip-offs and pretenders, each more over-the-top than its predecessor. In order to retain a market niche, the Bond franchise had to strike out in a different direction - something less cartoonish and closer to the Ian Fleming source novels. It's impossible to say where the filmmakers will take Bond from here, but Casino Royale hints that it may be in a more down-to-earth direction than we're accustomed to.
What's missing? Quite a bit, actually. Until its rousing introduction during the end credits, the "James Bond Theme" is heard sparingly, during brief, subdued passages. The signature line of "Bond, James Bond" keeps us waiting. There are no gadgets - in fact, there's no Q. Nor is there any Moneypenny. There's action, but it's surprisingly low-key (at least for Bond). Absent are the over-the-top, gravity-defying stunts that have characterized 007 movies over the years. This time, things get brutal. Not only is there a nasty fight in which Bond beats the crap out of a bad guy (he has to kill two people to get his double-zero status, but the deaths don't have to be neat) but our hero ends up on the receiving end of some vicious treatment. One can't imagine Connery, Dalton, or especially Moore going through that ordeal.
The plot follows Fleming's story a lot more closely than the original Casino Royale (a pathetic and uneven spoof) did. It's early days for Bond. Having completed the requirements for graduation to the elite level, he has been assigned 007, although M is convinced he's not ready. His first assignment is to track down one of the most elusive worldwide suppliers of terrorist money. After following the clues, which first take him to the Bahamas then to Miami, Bond learns the identity of his quarry: Le Chiffre (Mads Mikkelsen), who's about to enter an exclusive poker game at Casino Royale in Montenegro. Bankrolled by MI6, Bond enters against Le Chiffre, with accountant Vesper Lynd (Eva Green) watching the money. As the action at the tables heats up, Bond finds himself in trouble away from them as Le Chiffre and some of his associates try to eliminate the British agent.
It has been a long time since Bond has been this human. Not since On Her Majesty's Secret Service - the last time he fell in love - have we seen this side of the super agent. It's s curious thing to see Bond develop deep feelings for Vesper. We're used to him treating women like disposable commodities. Oh, he has affection for them, but love is not in his vocabulary. Yet there's no better way to humanize a superhero than to make him fall in love. We have seen that with Superman and Spider-Man. Now we see it with 007. This aspect of the movie is one reason why Casino Royale is a cut above anything we have gotten from the Bondmakers in decades.
The plot is oddly constructed, and plays out in three clearly defined acts. The first is the most like a traditional Bond film, with James hopping from country to country, engaging in a meaningless romance (with Caterina Murino), and chasing after two henchmen (a foot chase that involves scaffolding and a rush to stop a bomb at Miami Airport). Act II takes place mainly at the poker table. Surprisingly, there's a lot of tension even though there's not much action (except a staircase fracas), and the movie uses this segment to build the romantic tension between Vesper and Bond. I won't say much about the third act, except that it goes some unexpected places and initially seems disconnected with what precedes it.
For Daniel Craig, this is a triumphant debut. Not since early Connery have we seen a Bond this magnetic. Craig manages to show us both the human and the inhuman sides of Bond, and the portrayal is free of fatuousness. This Bond isn't beyond uttering the occasional quip, but when he does so, there's not a lot of humor in the delivery. Not since the closing moments of On Her Majesty's Secret Service have we seen such a vulnerable 007. While there's always a certain sadness associated with waving goodbye to a departing actor, Craig's performance makes us ask "Pierce Who?"
With everything else changing, one wonders whether it might have been time to bring someone else in to play M. That's not a knock on Judi Dench - no one can deliver M's acerbic one-liners like her - but if the intent is to make a clean break, why is she here? Eva Green, still best known for taking off her clothing in Bernardo Bertolucci's The Dreamers, is the right mix of hard and soft as Vesper - it's not hard to see how she could beguile Bond. Mads Mikkelsen is intense enough to pull off the villain role even though he lacks the megalomaniacal bent evidenced by most Bond bad guys. Additional support comes from Giancarlo Giannini as Mathis, the British agent based in Montenegro, and Jeffrey Wright as old friend Felix Leiter.
It's interesting to note that the radical revising of Bond is being done by the "usual" team. It's not as if an entirely new group was brought in for the "re-boot." The producers continue to be Michael G. Wilson and Barbara (daughter of Cubby) Broccoli. The writers are Neal Purvis and Robert Wade (with an assist from Paul "he's everywhere these days" Haggis), who were involved in scripting the last two Brosnan movies. Director Martin Campbell oversaw Goldeneye with Phil Meheux as his cinematographer. And David Arnold has been composing Bond scores since he took over from John Barry in the '90s. (The title song, "You Know My Name," which Arnold co-wrote with Chris Cornell, sounds eerily like something by Barry.)
My hope is that Casino Royale has not only re-invented James Bond, but made him relevant for the 21st century. The target audience has shifted. Although there's nothing in Casino Royale that will exclude teenagers, this 007 is aimed squarely at adults. The November release date is also perfect - the film is almost too dark and serious for the kind of lighthearted, mindless fun we associate with summer blockbusters. In recent years, I have come to each new James Bond movie with a series of ingrained expectations. For the most part, the Brosnan films met them across the board. Casino Royale defies many of them, and I couldn't be happier.
---
Casino Royale (United States/United Kingdom/Czech Republic, 2006)
Ranked #8 in Berardinelli's Top 10 of 2006
---
Three...better movies of this genre
worse movies of this genre
Three...better movies of Daniel Craig
worse movies of Daniel Craig
Three...better movies of Eva Green
worse movies of Eva Green
Three...better movies of Mads Mikkelsen
worse movies of Mads Mikkelsen
(There are no more worst movies of Mads Mikkelsen)