Skyfall (United Kingdom, 2012)
November 06, 2012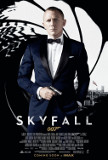 Skyfall can take its place alongside From Russia with Love, Goldfinger, and On Her Majesty's Secret Service as the best Bond can offer. With an Oscar winner at the helm and Oscar winners in two prominent roles, Skyfall overflows with talent but, as always, it's the man with the tux and the Walther PPK that makes the difference. With his piercing blue eyes, Daniel Craig saunters into this endeavor to his rousing two-note introduction with confidence. Now eight years and three movies into his tenure, Craig has gotten through the teething stage that was Quantum of Solace and has found his stride. He's the best Bond since Connery, and that's perhaps because there's so much of the first 007 in his performance. Gone is the silliness that defined Roger Moore's period and the superhero dimension that enfolded Brosnan. Although Skyfall spends equal time looking back and setting up the future, it never loses sight of the present and, in the process, gives us the best 007 adventure in more than four decades.
Sam Mendes, gleeful at the opportunity to helm an entry into the most successful motion picture franchise of all-time, proves himself as adept at escapist fare as at more "serious" material. (Although one could argue those credentials were previously established with Road to Perdition, in which he also worked with Craig.) His staging of Skyfall's action sequences are expertly done with an occasional hint of artistry (such as the scintillating confrontation between Bond and bad guy Patrice with the electrified backdrop of Shanghai's skyline in the background). He also causes elements of drama and pathos to percolate through the suspense and pyrotechnics. Skyfall is the complete package, at least to the extent that any Bond adventure could make such a claim. It challenges perceptions without breaking the formula.
It has often been mentioned that Craig's first two outings showed Bourne influences. With that in mind, Mendes opens Skyfall with Bond still in Quantum of Solace mode then gradually transitions him back in time, bypassing Brosnan, Dalton, and Moore - all the way back to the Golden Age of Connery. By its end, Skyfall has brought us full circle and long-time fans will feel as if they've come home. The closing scene is just about perfect and, if the world ended tomorrow and there was never another Bond outing, a better conclusion to the franchise would be hard to imagine.
Skyfall begins with a rousing pre-credits sequence set in Istanbul that climaxes with a fight on top of a moving train. Bond is left for dead by MI6 but, when he resurfaces, it's to a nonchalant "Where the hell have you been?" from M (Judi Dench), who returns him to active duty before he's ready and sends him on a global trek to locate a hard drive containing the names of all embedded field agents before it can be decrypted. The bad guy, Silva (Javier Bardem), isn't your usual 007 megalomaniac, however. He's not interested in world domination - conquering a small island is enough for him. His goal is more personal and his backstory recalls that of Sean Bean's 006 in Goldeneye. Along the way, Bond tussles with a younger (but no less cranky) Q (Ben Whishaw) and beds two Bond girls - fellow agent Eve (Naomie Harris) and exotic, sophisticated sex slave Severine (Berenice Marlohe). He also meets M's boss, Gareth Mallory (Ralph Fiennes), whom he dismisses as a "bureaucrat."
The film's structure is odd, with no big, overproduced climax and a narrative that has more in common with the '60s films than with anything post-Connery. Skyfall raises the emotional stakes to a level not seen since On Her Majesty's Secret Service; even Casino Royale didn't push this many buttons. We learn tantalizing bits about Bond's past - not enough to destroy the character's essential "in the moment" mystery, but enough to dispel the theory that "James Bond" is just a code name. The character played by Albert Finney is intriguing, and it's not hard to surmise this role was written with Sean Connery in mind. (Connery, if ever offered the part, stuck to his "never again" guns and elected to stay retired, but it takes little imagination to envision him saying the lines.)
Mendes brings with him frequent collaborators Roger Deakins and Thomas Newman. Deakins' cinematography may be the best ever in a Bond movie, and certainly the best in recent years. This is old-school camerawork in that the picture is stable and the fight scenes are easy to follow. Newman's score makes ample use of the Monty Norman/John Barry "James Bond Theme" - the first time it has been part of an incidental score since Craig took over. Adele's opening number, "Skyfall," hearkens back to the John Barry/Shirley Bassey collaborations.
Recent Bond movie openings have not been events. This is an exception. It doesn't feel like a retread. The emphasis on the M/007 relationship introduces a new, previously unexplored dynamic between the agent and his boss. Compare how the two mesh in Skyfall with their stately, formal interaction in Dr. No. Over the course of her previous six outings, Dench has been inching her authoritarian personality closer to the point where she could be considered a full-fledged character. Under Mendes, she achieves the goal. And the strength of her performance is matched by that of Javier Bardem, who comes across not as a sadistic lunatic but someone deeply wronged and tragically damaged. Sure, there's a cartoon element to Silva - it's not possible to be a Bond villain without going a little over-the-top - but he's not interchangeable with the many less intriguing antagonists to face off against 007 in the past.
Because of MGM's bankruptcy issues, we have waited four long years to get Skyfall. Convinced there was a story worth telling, Mendes stuck with the production and the result justifies the wait. I'd rather get a new Bond of this quality every four years than something along the lines of Quantum of Solace with half the time in between. Skyfall is everything Bond should be, encapsulating the best of all the eras - even the brief tenures of Dalton and Lazenby - into a package that celebrates Bond 50 by reassuring us that Bond is back.
---
Skyfall (United Kingdom, 2012)
Director:
Sam Mendes
Cast:
Daniel Craig
,
Rory Kinnear
,
Ben Whishaw
,
Albert Finney
,
Berenice Marlohe
,
Naomie Harris
,
Ralph Fiennes
,
Javier Bardem
,
Judi Dench
,
Ola Rapace
Screenplay:
Neal Purvis & Robert Wade and John Logan, based on characters created by Ian Fleming
Cinematography:
Roger Deakins
Music:
Thomas Newman
U.S. Distributor: Columbia Pictures
---
Three...better movies of this genre
worse movies of this genre
Three...better movies of Daniel Craig
worse movies of Daniel Craig
Three...better movies of Rory Kinnear
(There are no more better movies of Rory Kinnear)
worse movies of Rory Kinnear
(There are no more worst movies of Rory Kinnear)
Three...better movies of Ben Whishaw
worse movies of Ben Whishaw