Movies starring Julian Mcmahon Fanstastic Four: Rise of the Silver Surfer
Be careful what you wish for, you may get it… For non comic book fans over the age of 13, Fantastic Four: Rise of the Silver Surfer is a tedious, incoherent bore. For comic book fans of any age, it is an atrocity - the cinematic desecration o... Fantastic Four, The
Fantastic Four is the comic book that gave birth to Marvel Comics, making it the older sibling to such better-known titles as Spider-Man, X-Men, and The Incredible Hulk. The reason Fantastic Four has been relegated to the role of "ugly stepsister"...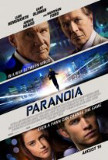 Paranoia
I've seen movies like this more often than I'd like to admit: glitzy thrillers with less intelligence than a smart rutabaga where big-name actors pick up a paycheck while trying with limited success not to embarrass themselves and the studio keeps ... Premonition
Time travel movies meddle with paradoxes and causality - these things lie at the core of their essential fascination. The difference between a good time travel movie and a bad one often rests with one simple quality: Having established a set of "...