Here Comes the Boom (United States, 2012)
October 12, 2012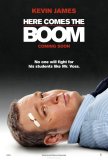 Here Comes the Boom is a mash-up of two popular genres: the sports movie and the teacher-making-a-difference movie. Strangely, this is not the first time we've seen this. 2011's vastly superior Warrior told a similar story but, in the case of Here Comes the Boom, weak humor and vanilla plotting have replaced legitimate drama, pathos, and character development. Although Adam Sandler is not directly involved in this movie, it has the feel of one of his kid-friendly projects both in the nature of the comedy (unfunny physical shtick and body fluid jokes) and the overall tone. That isn't surprising when one considers that the director, Frank Coraci, is a long-time Sandler collaborator. And star Kevin James is, of course, a member of Sandler's rat pack.
The film, which leaves no cliché untouched, is about an indifferent high school teacher, Scott Voss (Kevin James), who is accidentally transformed into the most caring, inspiring man in his high school. That's because, when the dastardly principal (Greg Germann) announces budget cuts, the music department faces elimination. This apocalyptic occurrence would result in music teacher Marty Streb (Henry Winkler) losing his job. So, in rare moment of unselfishness, Scott declares that he will raise the $48,000 necessary to ensure Marty's continued employment. He has no plan but eventually decides to try Mixed Martial Arts. After all, he was a good wrestler in college, even if that was 20 years ago, and even losers get paid. Predictably, after a rocky start, Scott starts winning bouts and eventually gets his shot at the big time. All the while, he sets an example for his students about the value of perseverance. (Alternative lesson: you do what it takes to make money, even if physical pain and humiliation are necessary.)
Here Comes the Boom is stale and vanilla. We know we're in trouble early when the first joke fails. (Scott, recognizing he's late, climbs through the classroom window. When he sees the principal waiting for him, he pretends it's all part of an elaborate demonstration for his borderline-comatose students.) At its funniest, Here Comes the Boom is no more than mildly amusing and a lot of the humor is more embarrassing or distasteful than comedic. This is the second film in a month that expects viewers to be doubled over with laughter because a character spews copious amounts of vomit. (The other: Pitch Perfect.) The dramatic elements are half-baked. And the big sports feel-good moments are so ineptly presented that cheering is almost unthinkable.
The biggest thing Kevin James has going for him is his likeability. By sheer force of personality, he makes some scenes watchable (but no more than that). The only thing Salma Hayek has going for her is her hotness, but this is a pure paycheck appearance for her. It's a little sad seeing the Fonz so old, gray, and utterly uncool. Henry Winkler doesn't make many acting appearances these days; it would be interesting to understand why he made this an exception. The most energetic performance belongs to 20-year old Philippines-born singer Charice, who does some interesting things with Neil Diamond's "Holly Holy."
To its credit, Here Comes the Boom has its heart in the right place, even though that doesn't count for much. The movie wants to make a statement about the importance of teachers inspiring kids and the need for a rounded education to include more than what's found in textbooks. As laudable as these themes are, however, the thin script fails to do them justice. The unfunny jokiness and lame MMA action keep getting in the way. And the fact that there are so many superficial similarities to Warrior serves only to make Here Comes the Boom seem that much less inspired. "The boom" is the sound of this movie falling on its face.
---
Here Comes the Boom (United States, 2012)
Run Time: 1:45
U.S. Release Date: 2012-10-12
MPAA Rating:
"PG"
Genre:
DRAMA/COMEDY
Subtitles: none
Theatrical Aspect Ratio: 2.35:1
---
Three...better movies of this genre
worse movies of this genre
Three...better movies of Kevin James
worse movies of Kevin James
Three...better movies of Salma Hayek
worse movies of Salma Hayek
Three...better movies of Henry Winkler
(There are no more better movies of Henry Winkler)
worse movies of Henry Winkler
(There are no more worst movies of Henry Winkler)