Movies starring Greg Germann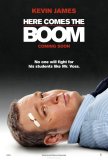 Here Comes the Boom
Here Comes the Boom is a mash-up of two popular genres: the sports movie and the teacher-making-a-difference movie. Strangely, this is not the first time we've seen this. 2011's vastly superior Warrior told a similar story but, in the case of Here ... Sweet November
Note to readers: this review contains spoilers. While I do not believe that the revelation of certain plot points will damage the overall viewing experience, those who wish to see Sweet November without having previous knowledge of key elements wo... Talladega Nights
Talladega Nights (subtitled, The Ballad of Ricky Bobby) is, in many ways, just like every other Will Ferrell comedy: take some satire, add some hit-and-miss jokes, throw in a lightweight storyline, and let the lead actor be the catalyst that crysta...