Movies starring Henry Winkler Click
We know from experience that Adam Sandler has a fondness for Frank Capra. After all, is there anything odder than watching Sandler channel Gary Cooper in a remake of Mr. Deeds (Goes to Town)? Actually, there is. It's watching Sandler channel Jim...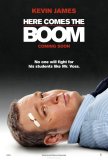 Here Comes the Boom
Here Comes the Boom is a mash-up of two popular genres: the sports movie and the teacher-making-a-difference movie. Strangely, this is not the first time we've seen this. 2011's vastly superior Warrior told a similar story but, in the case of Here ... Scream
Scream is a rarity: a horror movie spoof that succeeds almost as well at provoking scares as laughs. That's because director Wes Craven (A Nightmare on Elm Street), in addition to having a genuine affection for the genre, understands how wildly...