Movies directed by Wes Craven Cursed
Cursed is a good title for this film, which has been beset by problems from the outset. The version finally reaching theaters in February of 2005 likely bears little resemblance to what producer/writer Kevin Williamson and director Wes Craven init... Music of the Heart
To call Music of the Heart a departure for filmmaker Wes Craven is to make an understatement of colossal proportions. Craven, the driving force behind two of the world's most popular horror movie series, A Nightmare on Elm Street and Scream, has o... Nightmare on Elm Street, A
"Whatever you do, don't fall asleep." - Nancy The dream - or nightmare - is a staple of the modern horror movie. After all, even as manipulative as the device is, it's still a proven way to jolt an audience. Filmmaker Wes Craven understood th... Red Eye
Red Eye belongs to the genre in which a director attempts to sustain a heightened level of suspense for long enough that the audience will not notice how incredibly stupid the screenplay is. Alfred Hitchcock was a master at this - although some of... Scream
Scream is a rarity: a horror movie spoof that succeeds almost as well at provoking scares as laughs. That's because director Wes Craven (A Nightmare on Elm Street), in addition to having a genuine affection for the genre, understands how wildly... Scream 2
Scream 2 isn't quite as clever as its predecessor, but it fills the gap with a cutting wit. Death -- even gruesome, bloody death -- can be funny if handled the right way (some will be offended by this statement, but you need look no further than P... Scream 3
They say the third time's a charm. In the case of the Scream movie series, the Wes Craven/Kevin Williamson collaboration credited for having revived the slasher genre in the '90s, this cliché proves to be a falsehood. The most recent (and hopefu...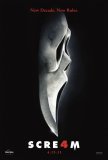 Scream 4
Eleven years after Sidney Prescott (Neve Campbell) and her posse last tangled with a mad slasher/killer, the Scream series has been exhumed. Ignoring or forgetting that the final part of the original trilogy, Scream 3, underwhelmed in terms of pop... Vampire in Brooklyn
It seems that movie makers have lost the art of creating a good, scary vampire flick. The last such film to grace the screen was probably Fright Night, and that was a decade ago. Since then, the "sensitive" vampire has come into vogue -- a creatu... Wes Craven's New Nightmare
It's been more than fifteen years since the release of John Carpenter's Halloween, and ten since Wes Craven's A Nightmare on Elm Street. Each, in its own way, was a top-of-the-line horror flick -- a film that relied more on chills and thrills than...