Movies starring Joshua Jackson Cruel Intentions
Three things made Dangerous Liaisons, the 1988 Stephen Frears/Christopher Hampton collaboration, one of the best films of the decade: tremendous dialogue, an intriguing and Machiavellian plot, and top-notch performances (excepting Keanu Reeves). ... Cursed
Cursed is a good title for this film, which has been beset by problems from the outset. The version finally reaching theaters in February of 2005 likely bears little resemblance to what producer/writer Kevin Williamson and director Wes Craven init...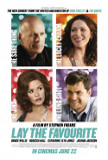 Lay the Favorite
Despite the stewardship of director Stephen Frears and the participation of Bruce Willis, Rebecca Hall, Vince Vaughn, and Catherine Zeta-Jones, Lay the Favorite, a would-be breezy comedy set in the world of grifters and gamblers, is as forgettable ... Racing Stripes
Although perhaps a little unkind, the best description I can think of for Racing Stripes is that it's a "Babe wannabe." The new film has many of the same qualities, but it isn't as fresh, as witty, or as affecting as the 1995 movie or its 1998 seq... Shutter
The Asian horror remake subgenre has gone through all the stages of bread: at first, it was a fresh alternative to generic American horror then, as more product came out of the cinematic oven, it grew increasingly stale. Now, it's rock hard and mo...