Movies starring Ryan Phillippe Breach
No matter how compelling and intriguing a real-life story may be, it doesn't necessarily translate into an equally compelling and intriguing motion picture. Breach is a case in point. Based on the widely publicized case of turncoat FBI agent Robe... Crash
Ensemble features can be daunting, yet some filmmakers embrace the challenge, and their results reward an audience. A lot of characters are woven into the tapestry of Crash, the feature directing debut of TV veteran Paul Haggis. (Haggis was also O... Cruel Intentions
Three things made Dangerous Liaisons, the 1988 Stephen Frears/Christopher Hampton collaboration, one of the best films of the decade: tremendous dialogue, an intriguing and Machiavellian plot, and top-notch performances (excepting Keanu Reeves). ... Flags of Our Fathers
Flags of Our Fathers is Clint Eastwood's homage to the honored dead of World War II as well as a meditation upon how an icon is formed. Based on the book by James Bradley and Ron Powers, the movie centers around the Battle of Iwo Jima, one of the ...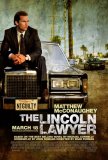 Lincoln Lawyer, The
SPOILER ALERT: This review reveals a key plot element. Although the movie discloses it within the first 40 minutes, there are those who may not want to know about it. Anyone in that category is cautioned not to read past the second paragraph unti... Playing by Heart
Playing by Heart is an ensemble dramatic comedy about the many faces of love: romance, longing, loss, sex, and lust. Set in modern-day L.A., the film tells six seemingly-unrelated tales about men and women finding each other, losing each other, u... Stop-Loss
Despite dismal box office results across-the-board, the major movie studios have yet to figure out that the American public is not interested in preachy movies about the war in Iraq. Filmmakers interested in producing compelling dramatic films abo...