Movies starring Neal Mcdonough 88 Minutes
It's always a shock when a movie turns out to be this bad. It's an even bigger shock when it features an actor of the caliber and reputation of Al Pacino. 88 Minutes is one of the dumbest thrillers to arrive it theaters in a long time, so it's no... Flags of Our Fathers
Flags of Our Fathers is Clint Eastwood's homage to the honored dead of World War II as well as a meditation upon how an icon is formed. Based on the book by James Bradley and Ron Powers, the movie centers around the Battle of Iwo Jima, one of the ... Guardian, The
There's nothing in The Guardian that audiences haven't previously been exposed to ad nauseam. Take a little of An Officer and a Gentleman and a little Top Gun and throw in some waves and underwater sequences, and you have The Guardian - only with ... Hitcher, The
1986's The Hitcher is not representative of a classic of the 1980s horror boom, so the decision by Michael Bay and company to re-make it is merely unnecessary, not sacrilegious. 20 years later, the original stands up well; there is no need to re-i... I Know Who Killed Me
It has not been a good week for Lindsay Lohan. First, she does irreparable damage to her image by engaging in the sort of irresponsible and self-destructive behavior we have come to expect from her. Then she is "portrayed" on The Tonight Show by ...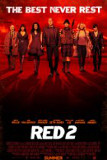 Red 2
I'm not sure whose idea it was to turn Red into a movie franchise. The first film, based on the DC Comics graphic novel, was an enjoyable throw-away, but there was nothing about the movie or its modest box office success that cried out for a second...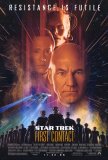 Star Trek: First Contact
For the first time in the seventeen-year run of the successful Star Trek movie franchise, there is no Captain Kirk. Star Trek: First Contact, the eighth entry into the motion picture series, is the first to rely exclusively on the crew of The ...
Traitor
Traitor is an uncommonly intelligent espionage thriller that explores the moral and ethical dilemmas faced by agents who go deep undercover in the service of their country. For movies that revolve around terrorist organizations and acts, there a... Walking Tall
The Rock's on a roll. Anyone who doubts Dwayne Johnson can be the new millennium's answer to Arnold needs to look no further than his recent resume. The parallels are astonishing. Both come from non-acting fields where brawn is a key requisite. ...