Movies starring Lindsay Lohan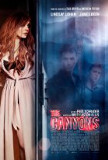 Canyons, The
The Canyons opens with still photographs of crumbling, disused movie theaters - multiplexes that, as recently as a decade ago, might have been bustling sites of human congress on weekends and holidays. These images have little to do with the story ... Freaky Friday
With 2003's Freaky Friday, Walt Disney Pictures is again cannibalizing its past. This is the third time the Magic Kingdom has turned out a version of Mary Rodgers' novel. The first instance, in 1976, starred Barbara Harris as the mother and Jodie... Georgia Rule
The typical Garry Marshall film (Pretty Woman, Raising Helen) can be classified by a few words: contrived, insipid, and predictable. Georgia Rule, while not the worst work Marshall has done, is a limp misfire. There are moments during the course ... Herbie: Fully Loaded
Herbie: the car that won't die. I suppose there are worse ways to spend a summer evening than in the company of this cast and the R2D2-like automobile, but hasn't the day of Herbie come and gone? The Love Bug first made its appearance in the 1968... I Know Who Killed Me
It has not been a good week for Lindsay Lohan. First, she does irreparable damage to her image by engaging in the sort of irresponsible and self-destructive behavior we have come to expect from her. Then she is "portrayed" on The Tonight Show by ... Just My Luck
With a title like Just My Luck, the urge to make puns is almost irresistible. However, in recognition of the fact that the film isn't that bad, I shall refrain from doing so. It's tough for me to determine how 13-year old girls will respond to ...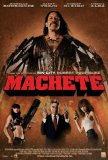 Machete
I went to Machete expecting an exploitation film and got a socio-political lecture instead. Although an exaggeration, that's the way it sometimes felt. Director Robert Rodriguez understands the exploitation genre and delivers everything one crave... Mean Girls
Although Mean Girls is likely to be frequently compared to Heathers, and perhaps occasionally to Election, the movie it most strongly reminds me of is 1999's Jawbreaker. All four of these films offer a darkly satirical perspective of high school a... Parent Trap, The
It never fails to amaze me that something as essentially light and pointless as Disney's remake of The Parent Trap can clock in at over two hours in length. This is one of those movies that has difficulty sustaining any kind of comic or dramatic m... Prairie Home Companion, A
A Prairie Home Companion is proof that age has not caused director Robert Altman to turn toward conventional, crowd-pleasing forms of cinema. Despite a folksy, low-key appeal, this movie is likely to primarily interest fans of Garrison Keillor's p...