Hero, The (United States, 2017)
June 15, 2017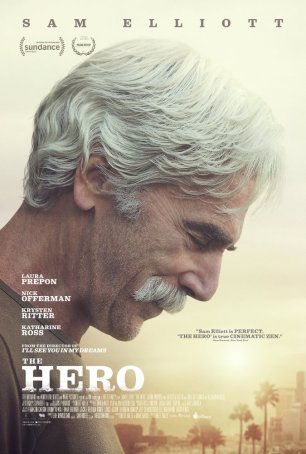 I don't know whether co-writer/director Brett Haley developed The Hero with Sam Elliott in mind but, regardless, the fit is perfect. A character actor best known for appearing in Westerns, Elliott made himself a recognizable fixture on TV and in movies over the last four decades with his craggy good looks, defining mustache, and inimitable voice. The Hero provides him with something that every actor longs for: a defining role. That it has come late in his career matters little – his portrayal of Lee Hayden, infused with 72 years of experience, is impeccable. Like Jeff Bridges in Crazy Heart, this is an opportunity for a sometimes-underrated actor (Elliott has never been nominated for an Oscar) to show his range and capabilities.
The Hero is more about character and performance than narrative. The story is minimal, focusing on Hayden, an aging Western icon who, facing a death sentence from pancreatic cancer, takes stock of his fading career and unsatisfying life. He is surrounded by a sparse group of individuals: his best friend (and drug dealer), Jeremy (Nick Offerman); his ex-wife, Valarie (Katharine Ross); his estranged daughter, Lucy (Krysten Ritter); and Charlotte (Laura Prepon), a woman half his age with whom he becomes romantically entangled. Although Elliott's towering performance is front-and-center throughout The Hero, as is proper, the movie's effectiveness is cemented by strong supporting work. Laura Prepon and Krysten Ritter in particular are excellent. They enhance what Elliott brings to the production.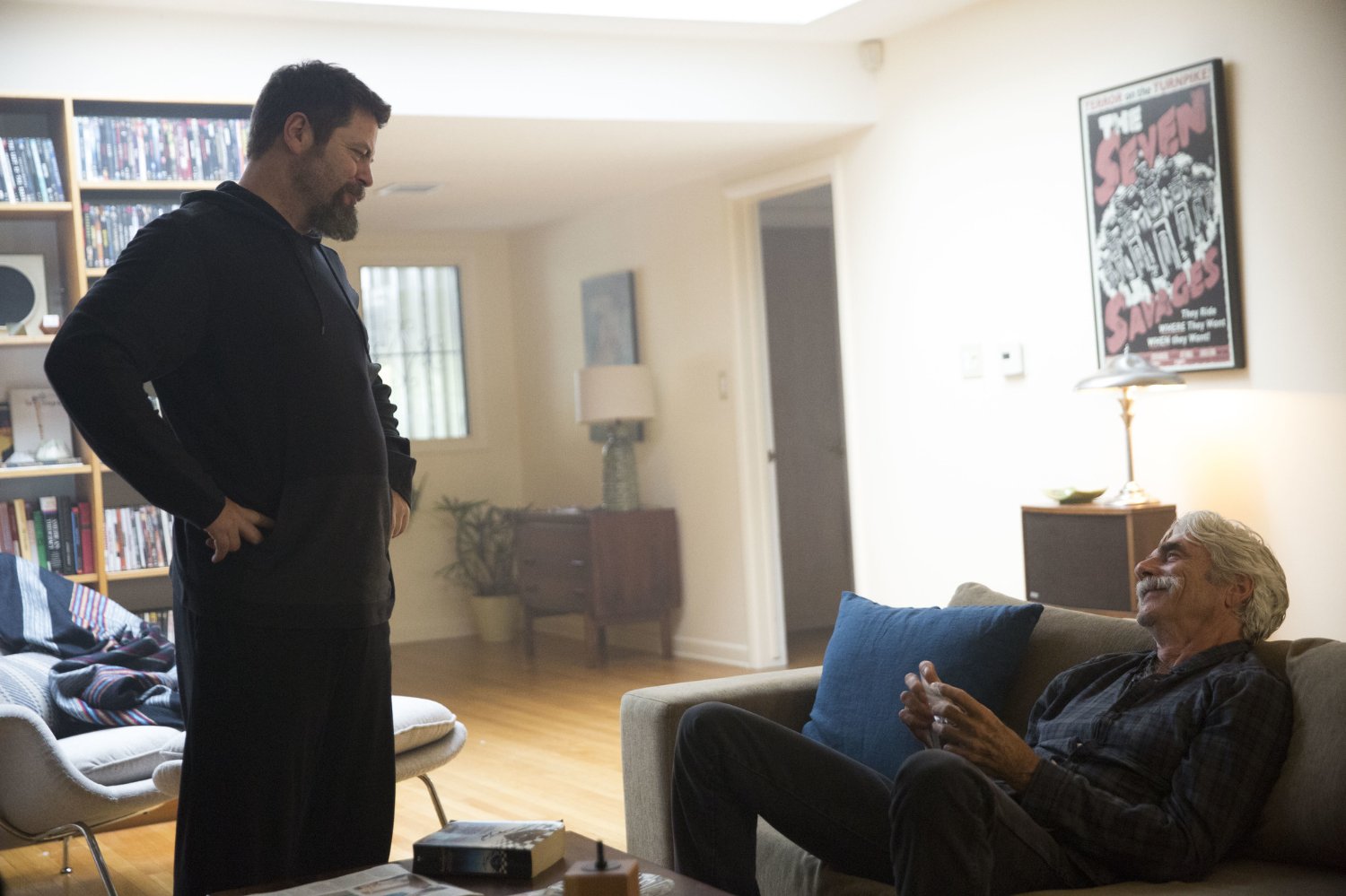 There's a little of the actor in the character. Hayden, like Elliott, is 72 years old. Both men have long screen careers, primarily in Westerns. They are known for their voices and mustaches. Elliott is more successful in his later years than Hayden, who has been reduced to doing commercial voiceovers and accepting awards at bottom-of-the-barrel ceremonies. The similarities probably end there, however. Hayden, once learning that he may not be around for much longer, looks at the shambles of his life with profound regret. And, in a twist of irony, a series of impulsive decisions suddenly make him "relevant" at a time when his health may not permit the relevance to last.
For the most part, the movie focuses on Elliott and lets the actor's portrayal carry the story along. One stylistic choice made by director Haley is dubious. From time-to-time, he portrays Hayden's "dream job" of making one last great picture starring his most famous character, The Hero, by incorporating snippets of a film-within-a-film. In these scenes, we see Elliott, in traditional Western regalia, doing typical Western things. The problem is that, although conceptually interesting, the segments are awkwardly inserted. Initially, it's unclear whether we're watching excerpts from a real movie Haley made or whether they are dream sequences.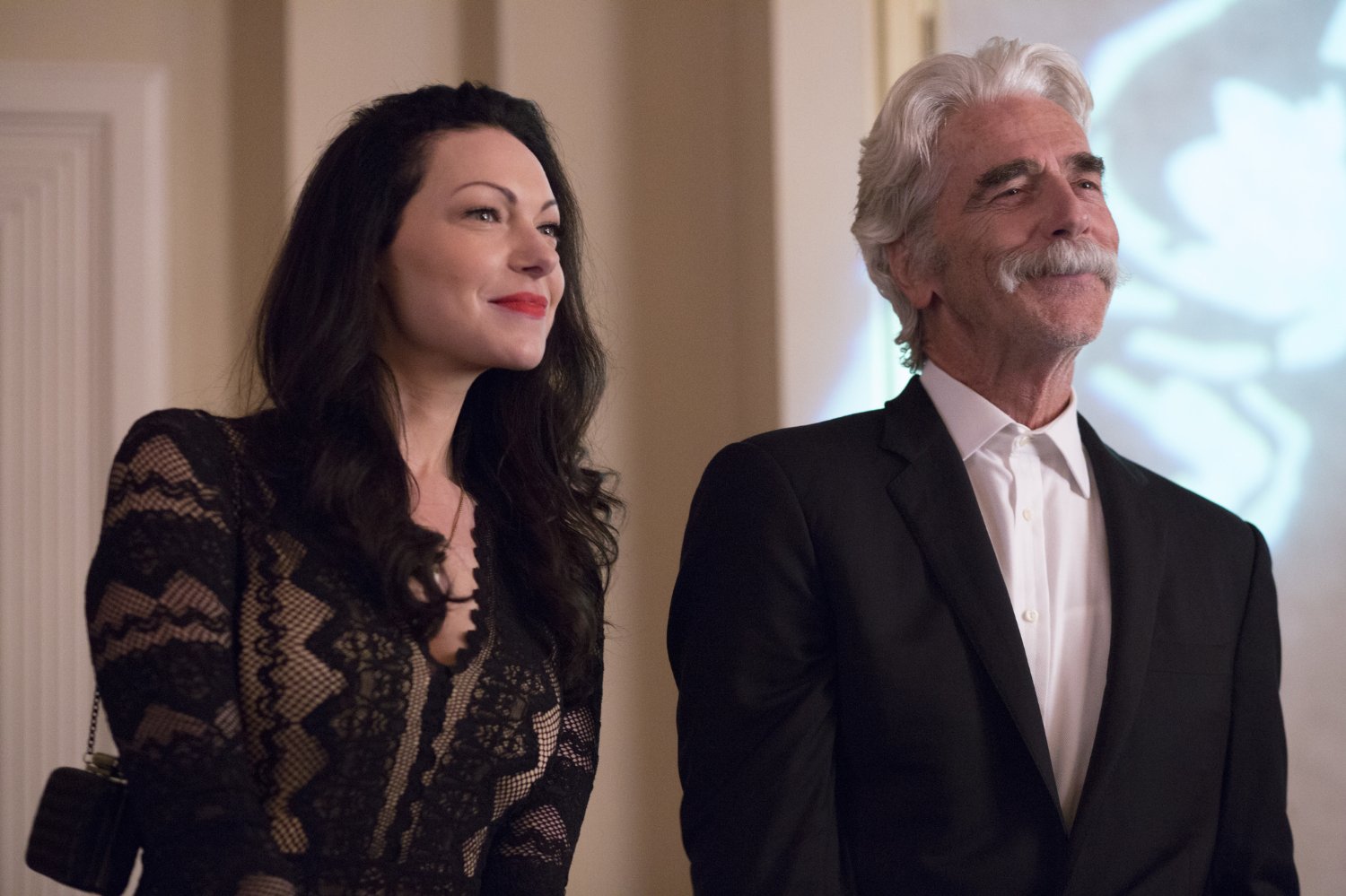 The Hero is self-aware to an extent, as one might reasonably expect from a movie about an older movie star being played by an older movie star. There's sly commentary about Hollywood "norms". Hayden can't get work until he becomes a social media star, then the offers start pouring in. When he falls for (and sleeps with) a woman half his age – something far from unusual in the industry – he spends a full scene struggling with the age difference. Perhaps the most cutting examination of this comes when Charlotte uses her affair with Hayden as fodder for her stand-up comedy. No other scene in The Hero is more uncomfortable.
In a fair world, Elliott's performance would get Oscar consideration. It's every bit as multi-layered and resonant as Bridges' work in the aforementioned Crazy Heart. Realistically, however, it has no chance. It's being released at the wrong time of the year by a small distributor without the clout or finances to back an Oscar campaign. We can, however, be thankful that the movie is seeing the light of day and doing so when theaters are cluttered with summer junk. This is a real movie about real people doing real things and facing real problems. Add in the best performance of Sam Elliott's career and it deserves to be seen by anyone willing to accept that satisfying cinema doesn't need to involve robots, pirates, mummies, or superheroes.
---
Hero, The (United States, 2017)
---

Three...better movies of this genre
worse movies of this genre
Three...better movies of Sam Elliott
worse movies of Sam Elliott
Three...better movies of Laura Prepon
(There are no more better movies of Laura Prepon)
worse movies of Laura Prepon
(There are no more worst movies of Laura Prepon)
Three...better movies of Nick Offerman
worse movies of Nick Offerman