Holdovers, The (United States, 2023)
October 30, 2023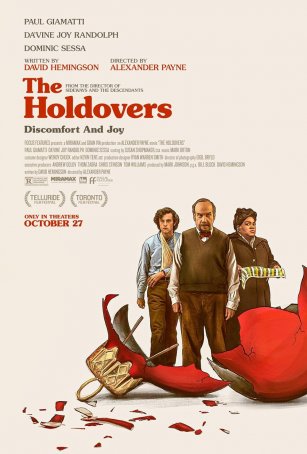 At the heart of The Holdovers lies a cliché – something about life-lessons imparted and accepted from a mismatched companion – but the manner in which director Alexander Payne and writer David Hemingson approach this familiar trope imbues it with freshness, honesty, and warmth. Payne has often been accused of looking down on his characters but this is a case where any such cynicism has at least been toned down. There's real empathy in the way the film's three principals have been approached and, when the time comes for a sacrifice to be made, it feels organic rather than contrived and the result is credibly low-key. No "Captain, my Captain" saccharine here.
The Holdovers is technically a Christmas movie… just as Die Hard is technically a Christmas movie. Like the classic Bruce Willis thriller, this film can be watched 12 months of the year without losing any impact. The function of the holiday in the story's context is to emphasize the loneliness that results from being isolated at that time of the year – a condition afflicting all three of the principals, although at least one will deny it with his every breath. He wants to be alone, he contends, although we come to learn that those may just be words.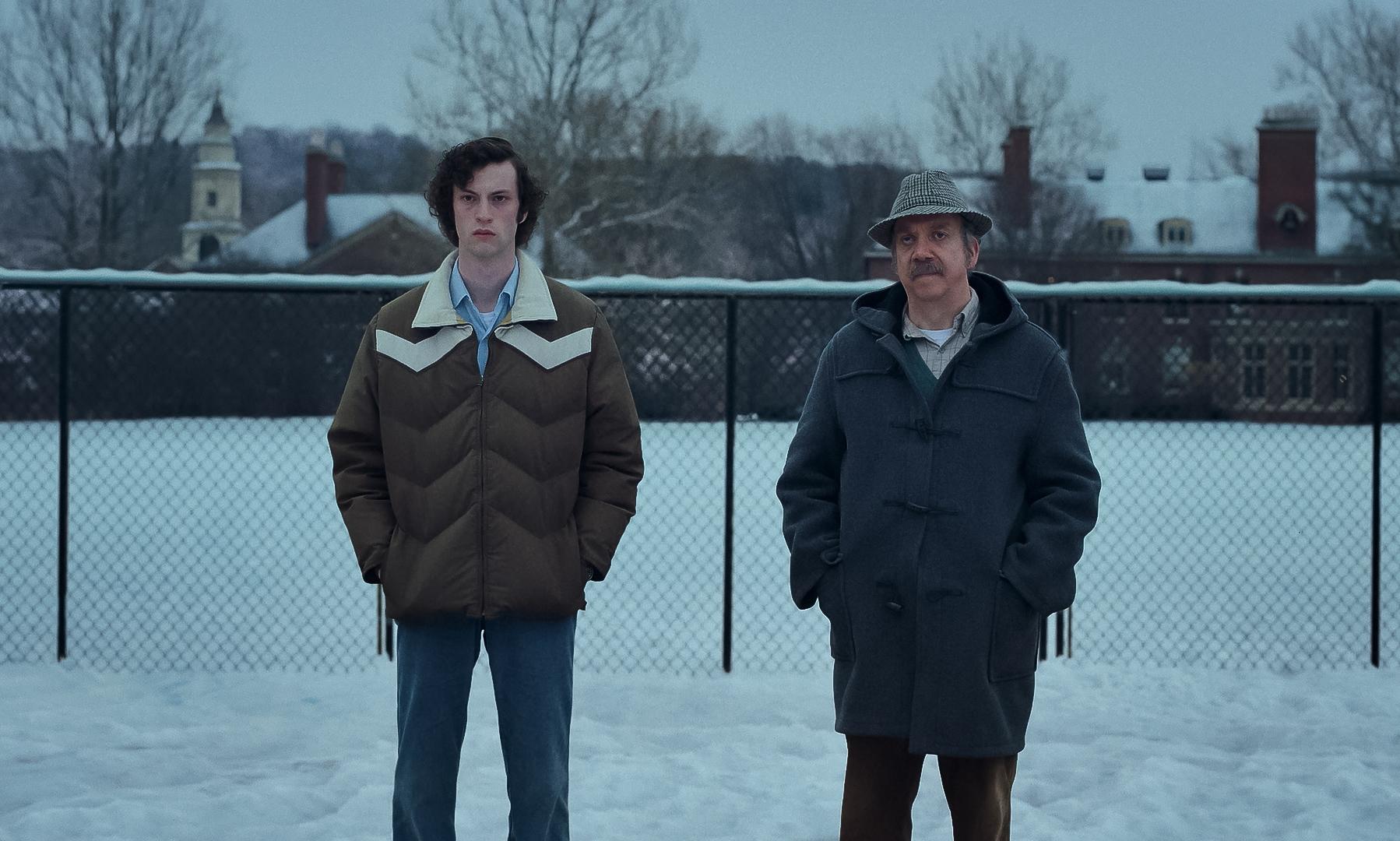 It's the waning days of 1970 on the cloistered campus of the tony Barton Academy, a New England prep school where boys vie with each other for grades that will guarantee their admittance to Ivy League colleges. With the approach of the holidays, everyone is going home for a few weeks – everyone except the lone "holdover" – teenager Angus Tully (Dominic Sessa), whose parents have decided to go on a vacation without him and have asked him to stay at school. Since he can't go unchaperoned, a teacher must also remain behind. The man with this distinction is Paul Hunham (Paul Giamatti), possibly the most disliked professor on staff, who is as unenthused about babysitting Angus as Angus is about having Paul as his jailer. Also on campus is Mary Lamb (Da'Vine Joy Randolph), the cook, who is working through the grief of having lost her son to the war in Vietnam.
Paul Giamatti is no stranger to Payne. The actor/director combination worked to good effect in Sideways, arguably the best title on Payne's strong resume. Giamatti, a character actor who is at his best when cast as a curmudgeonly type and/or a sad-sack, is in his element here. He presents Paul as an asocial prude with a stick up his butt who is more interested in rules and regulations than in his students. Nevertheless, we empathize with the man because his loneliness is evident to everyone except himself and, although the remoteness may be self-imposed, it has beaten him down. He has no real friends, no lovers, and nothing except the red ink he uses copiously in grading his students' work. He seems to delight in giving out D's and F's.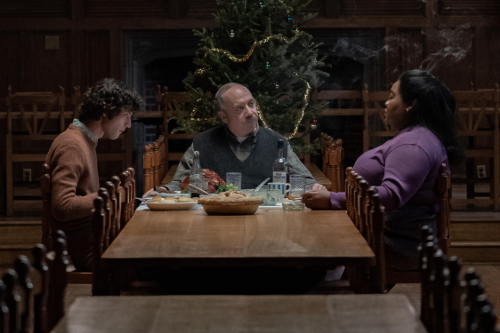 Giamatti is ably matched by newcomer Dominic Sessa, who holds his own in scenes with the veteran actor and provides the glue that forms the "mismatched buddy" portions of the movie. Da'Vine Joy Randoph has less to do than the other two but her role is no less important. Her character's loss forms a key aspect of the movie's structure and a commentary about how privilege can trump accomplishment with tragic results. Randolph's Mary has a stiff upper lip, but at times it trembles. Her most uncomfortable scene is also her most poignant.
The dialogue isn't as barbed as is often the case in Payne's movies but the humor is no less in evidence. Payne is certainly capable of serious material but this is as much a comedy as a drama. (Screenwriter Hemingson's TV background includes shows like How I Met Your Mother and American Dad.) Although aspects of the overall storyline wallow in familiarity, the sharpness of the writing, the precision of Giamatti's portrayal, and the well-honed relationships among the principals make the movie better than one might assume from a one or two-sentence summation. This isn't Payne's best work to-date but it's a welcome return to form after the disappointment of his 2017 release, Downsizing.
---
Holdovers, The (United States, 2023)
---
Three...better movies of this genre
worse movies of this genre
Three...better movies of Paul Giamatti
worse movies of Paul Giamatti
Three...better movies of Dominic Sessa
(There are no more better movies of Dominic Sessa)
worse movies of Dominic Sessa
(There are no more worst movies of Dominic Sessa)
Three...better movies of Da'Vine Joy Randolph
(There are no more better movies of Da'Vine Joy Randolph)
worse movies of Da'Vine Joy Randolph
(There are no more worst movies of Da'Vine Joy Randolph)