Intouchables, The (France, 2011)
May 23, 2012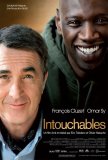 At the beginning of The Intouchables, a caption informs us that this is "based on a true story." The Intouchables is a very good film - uplifting, funny, heartwarming, etc. - but its strengths are unrelated to the degree (or lack thereof) of factual veracity. So cease worrying about where the narrative diverges from the record. Don't lose sleep over the racial makeover applied to one of the characters. Enjoy this movie for what it is - the kind of motion picture that can cause Champaign-like giddiness - and don't obsess over how true-to-life this work of fiction is.
The screenplay, credited to co-directors Olivier Nakache and Eric Toldeano, cleverly uses the structure of a romantic comedy to frame the (platonic) friendship between two very different men. There's not even a whiff of sexual tension between the leads, yet their interaction is defined by feelings of love and amity. It's love without romance between two heterosexual guys who bond with a depth one rarely finds outside a movie theater. This is a buddy movie where the friendship doesn't play second fiddle to overblown action or raunchy comedy. From start to finish, The Intouchables is about the development of an unlikely relationship between two very different individuals. For what it is, it's hard to find something better.
Philippe (Francois Cluzet) is a quadriplegic. Confined to a wheelchair and unable to feel anything below his neck, he is remarkably good natured about his situation. He's wealthy enough to be able to afford around-the-clock care and, with the aid of a secretary, a nurse, and a caretaker, he lives a reasonably productive life. When circumstances force him to find a replacement caretaker, he interviews all the usual candidates... and one oddball. That would be Driss (Omar Sy), a "street person" thief and schemer, who has only applied for the job to prove to government officials that he's looking (so he can collect the French equivalent of unemployment insurance). Philippe is impressed by Driss' unconventional approach to the interview and offers him the job. Soon, after working through a few rough spots, the pair bonds and a friendship begins to blossom. It's fueled by mutual respect, a love of fast cars, and musical diversity (Phillipe loves the classics; Driss is a hard-core Earth Wind and Fire lover).
The Intouchables is full of little inspirational moments - the kinds of scenes that remind us how much joy can be found on a screen. Whether it's Driss and Philippe speeding down the highway while "September" is blaring on the stereo, Driss dancing up a storm at Philippe's stodgy birthday party, Driss acting as Philippe's barber, or Driss' reaction to his first opera, the movie is overflowing with wonderful moments. Humor and drama are well-balanced; things never get too maudlin but, although there are laughs, this is not a straightforward comedy. It respects the characters and their situations. The Intouchables has an "American flavor," meaning that, subtitles aside, it should play well in the United States. The directors appear to have been influenced by Hollywood. The Intouchables also avoids cluttering up the narrative with too many subplots. There are other things going on beyond the development of the central relationship, but they are kept in the background.
As is always the case with buddy films/romantic comedies, the actors and their chemistry represents the foundation upon which all else is built. In this case, both leads are winners. They "get" their characters, inhabit them fully, and interact with each other with genuine warmth. Francois Cluzet is a veteran performer with more than 90 credits on his IMDb filmography. Festival goers will recognize him immediately, but he has never had a big "hit" on this side of the Atlantic outside of the art-house circuit. Omar Sy likewise has an impressive resume without a lot of North American exposure. These actors deserve praise and recognition for what they accomplish; they are the heart, soul, and funny bone of The Intouchables.
The Intouchables was a huge hit when it opened in France in November 2011. Not only did it do well at the box office, but it was nominated for nine Cesar Awards (won one: Omar Sy for Best Actor, beating out Cluzet among others). The Weinstein Company has elected to use it as "counterprogramming" for the big 2012 summer movies in the United States. This is the kind of film that can succeed in that role, offering a different, more subdued variety of pleasure from multiplex offerings. Most May and June releases are about action and special effects; The Intouchables is a notable exception and well worth seeing for that reason alone.
---
Intouchables, The (France, 2011)
Run Time: 1:52
U.S. Release Date: 2012-05-25
MPAA Rating:
"PG-13" (Profanity)
Genre:
DRAMA
Subtitles: In French with English subtitles
Theatrical Aspect Ratio: 1.85:1
---
Three...better movies of this genre
worse movies of this genre
Three...better movies of Francois Cluzet
(There are no more better movies of Francois Cluzet)
worse movies of Francois Cluzet
(There are no more worst movies of Francois Cluzet)
Three...better movies of Omar Sy
(There are no more better movies of Omar Sy)
worse movies of Omar Sy
Three...better movies of Anne Le Ny
(There are no more better movies of Anne Le Ny)
worse movies of Anne Le Ny
(There are no more worst movies of Anne Le Ny)