Little White Lies (France, 2010)
September 13, 2012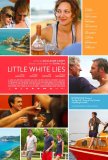 Little White Lies replicates the experience of going on a two week summer vacation with a group of self-absorbed Parisians. At times, it's amusing. At times, it's tragic. At times, it's romantic. But, like many vacations, it's way, way too long. All credit must be given to the fine troupe of actors assembled by writer/director Guillaume Canet for keeping the viewer from falling asleep. Not a lot happens during the course of this epic length, intimate ensemble character drama, and much of what does happen is petty. Couples break up. Others are reunited. One man spends an inordinate amount of time chasing weasels and mowing his lawn. One character comes out of the closet and effectively ruins the vacation for himself and his best friend. One woman discovers she's pregnant. An individual attempts to decipher text messages he finds cryptic. And so on... Most of these little dramas are universally recognizable, but they're the kinds of things we appreciate more in real life than in a movie.
The French have an entirely different idea of what constitutes a "comedy" from the Americans. Little White Lies is classified as a "comedy" in its country of origin. I suppose that's meant in a Shakespearean sense, because there's not a lot of humor in Canet's screenplay, which is primarily dramatic and includes scenes of outright tragedy. There are instances of mild amusement that might provoke a chuckle or a smile, but I don't think I laughed at all and I didn't get the impression there were a bunch of intended jokes that I didn't find funny. I have encountered a lot of French "comedies" like this and it still puzzles me why they are classified that way, especially by distributors trying to sell them to American audiences.
It's easy enough to invoke The Big Chill when discussing Little White Lies. There are obvious similarities, but The Big Chill spoke to a particular generation at a specific juncture of their lives (baby boomers facing middle age and mortality) while Little White Lies is more generic. The characters here span about twenty years from the youngest to the oldest. The Big Chill also felt more artificial than Little White Lies, which is nothing if not hyper-realistic. Still, many of the same themes about being passed by in life and not becoming the person one hoped to be are addressed. It just takes Little White Lies an extra 45 minutes to get around to them.
Little White Lies begins with an amazing tracking shot that follows Ludo (Jean Dujardin, who made this a year before winning his Best Actor Oscar for The Artist) as he wanders around a club in preparation to leave, then outside as he climbs onto his motorcycle, and finally down the road until he gets creamed by a truck. The accident leaves him barely alive in a Paris hospital. His friends gather to pay their respects. They are Max (Francois Cluzet), the oldest of the bunch and a Type A personality; his long-suffering wife, Veronique (Valerie Bonneton); his best friend, Vincent (Benoit Magimel); Vincent's wife, Isabelle (Pascale Arbillot); the free-spirit of the group, Marie (Marion Cotillard); Eric (Gilles Lellouche), an actor with a bad boy reputation; and Antoine (Laurent Lafite), a romantic who pines over his lost love, Juliette. After some consideration, they decide to go on their planned group vacation even though Ludo is fighting for his life in intensive care. It will only be two weeks, they reason, and, by the time they get back, Ludo will be ready to receive visitors. So they head for Max's seaside summer home where they will spend as much time bickering as enjoying the water.
The strength of Little White Lies is in the excellent across-the-board acting. There are three standout performances, the strongest of which is given by the movie's best known star, Marion Cotillard, whose recent success in mainstream American films has raised her stock but not muted her ability. Her role here isn't showy but she leaves an impression with a portrayal that requires everything from rage to melancholy to vulnerability. Previously, Cotillard starred opposite her director here, Guillaume Canet, in 2003's Love Me if You Dare. Also excellent is Gilles Lelouche, whose Eric has the strongest character arc. Finally, the director is reunited Francois Cluzet, the Dustin Hoffman lookalike who starred in Canet's excellent thriller, Tell No One.
As vacation films go, this one is a cut above the once-popular Chevy Chase vehicles, although it's not as funny, despite the "comedy" label. It's also too long-winded for its own good, although for those willing to stick it out, the final fifteen minutes have a power and poignancy that arguably make the previous 2 1/4 hours worth it. It's a mixed bag probably better enjoyed in the comfort of one's home even if the remote control's "fast forward" button is a difficult temptation to resist.
---
Little White Lies (France, 2010)
---
Three...better movies of this genre
worse movies of this genre
Three...better movies of Francois Cluzet
(There are no more better movies of Francois Cluzet)
worse movies of Francois Cluzet
(There are no more worst movies of Francois Cluzet)
Three...better movies of Marion Cotillard
worse movies of Marion Cotillard
(There are no more worst movies of Marion Cotillard)
Three...better movies of Benoit Magimel
(There are no more better movies of Benoit Magimel)
worse movies of Benoit Magimel
(There are no more worst movies of Benoit Magimel)