Jumanji: Welcome to the Jungle (United States, 2017)
December 20, 2017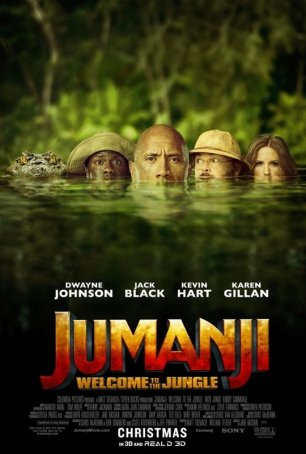 Every year, there are a handful of pleasant and unpleasant surprises in multiplexes. Count Jumanji: Welcome to the Jungle among the former. A tremendous improvement over the tepid 1995 original, this quasi-sequel brings humor, fun performances, and a canny understanding of late 1990s-style video games to a party that never takes itself seriously. Although the Rock flexes his biceps and exudes charisma, Kevin Hart does the kind of comedy he excels at, and Karen Gillan kicks ass as solidly as Black Widow, the show-stealer is Jack Black, whose gender-confused wilderness explorer is not only consistently funny but represents a smart bit of acting.
Guns & Roses reference aside, this new Jumanji opens with a prologue that begins where the previous film left off, with the troublesome board game half-buried in sand on a nameless beach. After being found and brought home by an unsuspecting man for his son, the boy, Alex Vreeke (Mason Gussione), puts it aside. After all, it's 1996 and no one plays board games anymore. He's into video games. Jumanji, apparently recognizing this, transforms itself into a cartridge for a SNES-style console. Alex is intrigued, starts it up, and realizes he probably shouldn't have done that…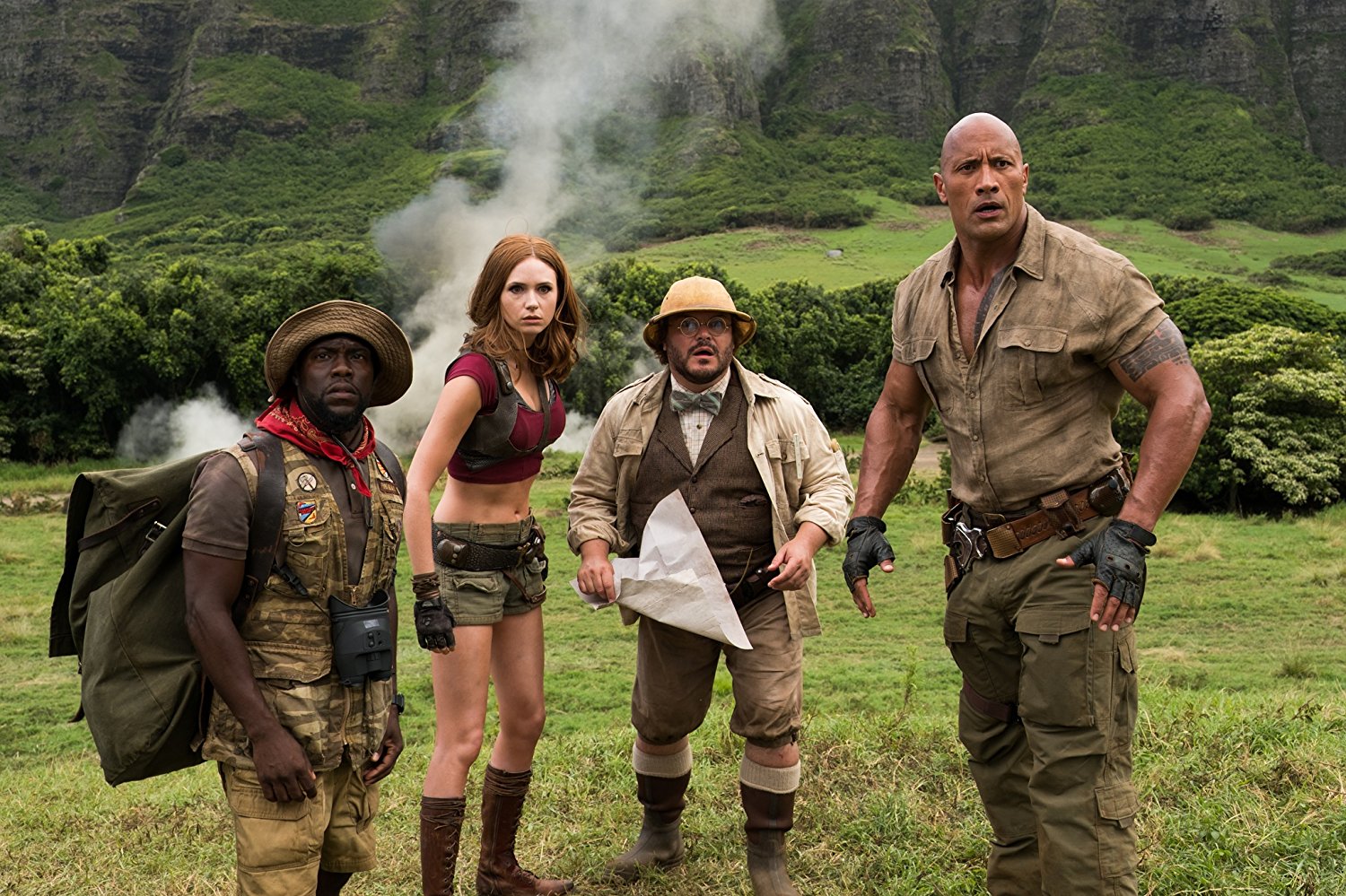 Skip ahead 20 years. Four random high school students – geek Spencer Gilpin (Alex Wolff), football player Fridge Johnson (Ser'Darius Blain), hot babe Bethany Walker (Madison Iseman), and mousey Martha Kaply (Morgan Turner) – are serving detention cleaning out a basement. There, they find the Jumanji video game and, as a way to kill time, they begin playing. Like Alex, they are physically pulled into the game, where they assume the avatars they have chosen. Spencer becomes muscle-bound archeologist Smolder Bravestone (Dwayne Johnson). Fridge loses "two feet" of height as Smolder's sidekick, the diminutive "Moose" Finbar (Kevin Hart). Martha jumps way up on the hotness scale as Ruby Roundhouse (Karen Gillan). And poor Bethany transforms from a svelte, curvy blond girl into a pudgy middle-aged man, Professor Shelly Oberon (Jack Black).
It doesn't take long for the characters to figure out that they're playing Jumanji for real and that they have limited lives before it's "game over" and winning requires progressing through increasingly difficult levels, solving riddles, and eventually battling the Big Boss. Their ultimate nemesis is the bad-to-the-bone Van Pelt (Bobby Cannavale), the only returning character from the first Jumanji (although played here by a different actor). Welcome to the Jungle has fun with the tropes and limitations of SNES-style console games, including clunky dialogue/exposition, limited player interaction with game characters, and bizarre strengths and weaknesses. Because the characters all start out with three lives apiece, we get to see each of them die at least once, sometimes in amusing ways.
The original Jumanji was an intriguing idea, poorly developed and executed. Welcome to the Jungle corrects many of the problems of its predecessor and provides the viewer with a better overall two hours of entertainment. Credit director Jake Kasdan (son of Lawrence) with keeping things moving and getting the best out of his four leads. The movie struggles a little with pace early on but the "real world" first 15 minutes are necessary to introduce the characters and make their contrasts with their avatar-selves interesting and amusing.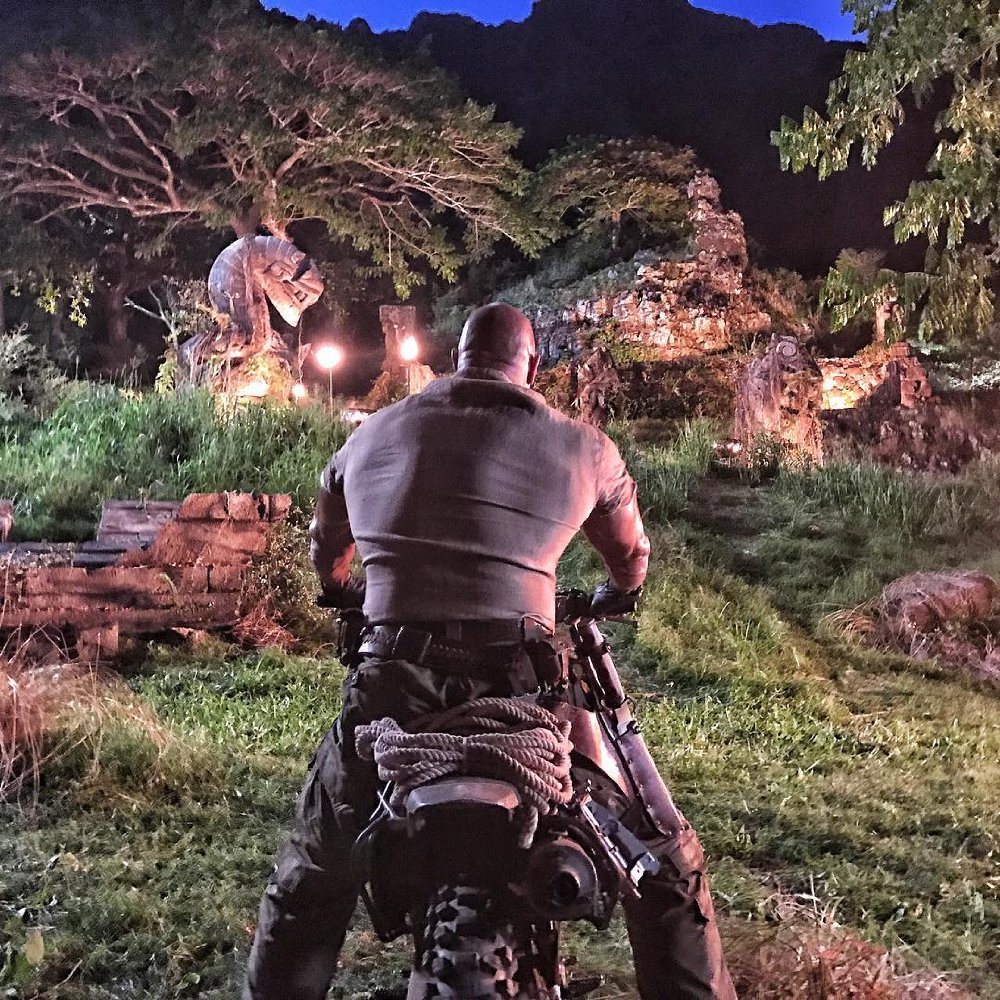 Part of the fun of watching Welcome to the Jungle is seeing the actors play their roles off-key. This is particularly true of Johnson and Black. Both are believable as people uncomfortable in their own skins. Black's impersonation of a girl is equal parts hilarious and spot-on and Johnson has no trouble poking fun at his image by displaying mannerisms associated with a lack of self-confidence. The chemistry among the actors is evident and translates (at least in part) to their real-world counterparts.
When Jumanji came out, the quality everyone mentioned was the special effects. In the early CGI era, this was touted as being a visual smorgasbord. The reality fell short of the hype. The effects work in Welcome to the Jungle is more effective because it's less ostentatious. The animals are believable because they are no longer the point of the movie. Likewise, the action sequences are effective because they play off standard video game elements while never lasting for too long.
Jumanji has been given an unenviable release date, entering theaters with The Last Jedi less than a week old and in large part vying for the same audience. I would recommend not passing over the former film in the rush to see the latter. Star Wars might be a far more significant franchise than Jumanji but I can make a compelling case that Welcome to the Jungle is a more fun film than The Last Jedi. At the very least, I can say I had a good time with this incursion into a Raiders of the Lost Ark-influenced comedy/adventure world.
---
Jumanji: Welcome to the Jungle (United States, 2017)
Director:
Jake Kasdan
Cast:
Dwayne Johnson
,
Ser'Darius Blain
,
Morgan Turner
,
Madison Iseman
,
Alex Wolff
,
Bobby Cannavale
,
Nick Jonas
,
Kevin Hart
,
Karen Gillan
,
Jack Black
,
Mason Gussione
Home Release Date: 2018-03-20
Screenplay:
Chris McKenna & Erik Sommers and Scott Rosenberg & Jeff Pinkner, based on Jumanji by Chris Van Allsburg
Cinematography:
Gyula Pados
Music:
Henry Jackman
U.S. Distributor: Columbia Pictures
---

Three...better movies of this genre
worse movies of this genre
Three...better movies of Dwayne Johnson
worse movies of Dwayne Johnson
Three...better movies of Ser'Darius Blain
(There are no more better movies of Ser'Darius Blain)
worse movies of Ser'Darius Blain
(There are no more worst movies of Ser'Darius Blain)
Three...better movies of Morgan Turner
(There are no more better movies of Morgan Turner)
worse movies of Morgan Turner
(There are no more worst movies of Morgan Turner)