My Week with Marilyn (United Kingdom/United States, 2011)
November 21, 2011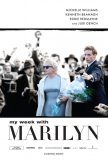 At first glance, My Week with Marilyn might seem like a salacious behind-the-scenes look at a mostly forgotten (yet high profile at the time) movie that had its share of off-camera drama. However, a closer examination of the film reveals an incomplete character study of icon-in-the-making Marilyn Monroe. Although still six years away from her 1962 death-by-overdose when she traveled to England to make The Prince and the Showgirl with Sir Laurence Olivier, Marilyn displayed many of the characteristics that would later poison her career and personal life. My Week with Marilyn chronicles the difficult process of getting the film in the can while exploring the enigma that was Marilyn Monroe at the height of her fame.
Adrian Hodges' screenplay is based on two books written by Colin Clark, who was the "third assistant to the director" on The Prince and the Showgirl. It wasn't until the 1990s that Clark, who died in 2002, published the accounts of his time spent with Marilyn Monroe. His claims of a chaste love affair ring true and his portrait of the actress meshes with other accounts from the era. My Week with Marilyn is a relatively accurate encapsulation of Clark's experiences. However, although the narrative is presented from his point-of-view, this isn't his story - he seems like a minor satellite orbiting a blazing star.
The events transpire during the summer of 1956. At the time, Olivier (Kenneth Branagh) is among the royalty of British cinema and widely viewed as one of the best actors in the world. Monroe (Michelle Williams) is arguably the most famous movie star, but she is trying to shed her sexpot image and be taken seriously. The marriage of these two in a romantic comedy, The Prince and the Showgirl, is viewed as a can't-miss proposition. Almost from the beginning, however, Monroe's inconsistency in front of the camera and her eccentricities away from it drive director Olivier to distraction. Although newly married to playwright Arthur Miller (Dougray Scott), Marilyn is unhappy, and Olivier's criticisms of her make her skittish. She is frequently late to the set and often altogether absent due to illness, alcohol, or pills. She has three advocates outside of Miller: fellow actress Dame Sybil Thorndike (Judi Dench), who sympathizes with her plight; companion Paula Strasberg (Zoe Wanamaker), who helps with her "method acting"; and Clark (Eddie Redmayne), who is kind and non-judgmental. For a week after Miller leaves for some peace and quiet, Clark becomes Marilyn's confidante. To her, he is a friendly port in a storm. To him, she is his first love.
The primary criticism leveled against Michelle Williams is that she doesn't look "enough" like Marilyn Monroe. Admittedly, Williams is not a dead ringer for the '50s icon, but the strength of her performance is more than sufficient to wipe away physical dissimilarities. Williams brings Marilyn to life in all her permutations: little-girl-lost Norma Jean; sexy, kittenish Marilyn Monroe; and the confused woman trapped in between. There's a remarkable scene in which Monroe, on a "field trip" with Clark, asks him if she should "turn it on." Moments later, the somewhat timid woman is replaced by a saucy, pouting, entirely confident starlet. My Week with Marilyn is filled with moments like this when we get a sense that, for Monroe, although fame was a curse, it was something she could not live without.
There is rich irony in the casting of Kenneth Branagh as Olivier. For much of his professional career (at least since he made Henry V more than two decades ago), Branagh has been compared to Olivier, so it's fitting that he play the actor. The character is thinly-written - Olivier is third fiddle to Monroe and Clark - so Branagh opts more for mimicry than attempting to develop a three-dimensional personality. It works well enough in the context of what My Week with Marilyn requires. Olivier comes across as a tireless perfectionist, impatient, prone to introspective lapses, and a womanizer. Like everyone else, he is in awe of Marilyn. Unlike everyone else, he would like to strangle her.
Eddie Redmayne, who has bounced back and forth between film and television in England, is probably the least known member of a cast that includes Williams, Branagh, Judi Dench, Emma Watson (an underwritten role as Clark's would-be "normal" girlfriend), and Derek Jacobi (in a cameo), but he holds his own. His portrayal of Clark is gentle and unforced. On those occasions when he fades into the background, it's by design. For Marilyn to shine, Clark cannot be too forceful, and Redmayne understands this.
Simon Curtis, a veteran TV director making the leap to the big screen, has fashioned a production that should have broad appeal. It's one of the best recent character studies of Monroe, especially in the way it details the beginnings of behavior that would lead to the ruin of her career and her death. It offers a beguiling, factually-based look at the difficulties faced in making movies with stars during the '50s. As such, it should intrigue those who love old movies and those who are arrested by tabloid stories. And it provides a sweet love story - although this is by far its weakest aspect. The unpretentious, easy-to-digest style and short running length (a shade over 90 minutes), when coupled with strong acting (especially on Williams' part), make My Week with Marilyn a pleasant end-of-the-year diversion.
---
My Week with Marilyn (United Kingdom/United States, 2011)
---
Three...better movies of this genre
worse movies of this genre
Three...better movies of Michelle Williams
worse movies of Michelle Williams
Three...better movies of Eddie Redmayne
worse movies of Eddie Redmayne
Three...better movies of Julia Ormond
worse movies of Julia Ormond
(There are no more worst movies of Julia Ormond)