Risky Business (United States, 1983)
April 13, 2009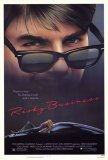 For Tom Cruise, 1983 was the year of his Ascension, although the Coronation would have to wait until Top Gun in 1986. Before 1983, Cruise was regarded as an up-and-coming actor, someone to watch. But with the double-barreled success of the teen romantic comedy Risky Business and the teen sports movie/drama All the Right Moves, Cruise had arrived. After Risky Business, Cruise and his Ray-Bans were everywhere: posters, magazine covers, publicity shots... A movie star had been born.
As for the film, Risky Business was unique in some ways, but comfortable enough not to chase away its core audience of 17-to-25-year-olds. (The "R" rating at least theoretically precluded under-17s from seeing it, at least without an accompanying parent or guardian.) This was one of the first '80s teenage romantic comedies. In an era when the teen film was gravitating toward the sex comedy, Risky Business bucked the trend by using the skeleton of a tried-and-true "boy meets girl and falls for her" formula. The production employs some drastic tone shifts (involving the Joe Pantoliano character) that are not entirely successful, but they make for an interesting viewing experience. Cruise's magnetism, amply on display for more than 90 minutes, is the engine that drives this vehicle. He's got the charisma to hold the camera when he's on his own (the "Old Time Rock'n Roll" dance sequence) and his scenes with Rebecca De Mornay sizzle (their first time having sex, although overly stylized, is tasteful and erotic).
For writer/director Paul Brickman, this was a case of being in the right place at the right time and, perhaps most importantly, getting the right leading man in place. Had Risky Business been made with another cast, it would likely have gone down in history as a forgettable (and forgotten), derivative early '80s feature. This was Brickman's directorial debut and one of only two ventures behind the camera (the other being 1990's unremarkable Men Don't Leave). It also enhanced the bad girl/good boy template in ways whose ripples have been felt in Hollywood for decades, with The Girl Next Door often being referred to as "Risky Business for the next generation."
Joel Goodsen (Cruise) is a good-looking suburban Chicago high school senior who's afraid to heed the advice of his best friend and just say "What the fuck?" (Or, as his dad puts, it, "What the heck?") Academically, he has his eye on Princeton, but it seems a long shot at best. Socially, he's friends with a group of awkward and horny teenagers (played by, among others, Curtis Armstrong and Bronson Pinchot). Romantically, Joel hasn't had much luck, which makes him easy prey for Lana (De Mornay), a prostitute with the face of an angel and the body of a succubus. Unfortunately for Joel, after partaking of Lana's services, he doesn't have the cash on hand to pay $300 for the night before and makes the mistake of leaving her unsupervised in his parents' house when he rushes to the bank to get the money. He returns to discover a valuable knickknack missing. In attempting to retrieve this before his parents return from their vacation, he runs afoul of Lana's pimp, Guido (Joe Pantoliano), and his father's Porsche takes a swim in Lake Michigan. After that, Joel's life takes a detour from safe suburban routine to the "risky business" of the title. He becomes involved in a "business venture" with Lana and a few of her friends that transforms his house into a brothel and his buddies into satisfied customers.
By broadening its scope beyond the basic confines of a romantic comedy, Risky Business achieves widespread appeal. Teen romance? Check. A sex scene featuring a beautiful, naked woman? Check. Boy who learns a few things about consequences and, as a result, grows up in unexpected ways (a.ka. "coming of age" story)? Check. Happy ending? Check. (Although Brinkman's original conclusion, which was filmed but not used, was more downbeat.) While not a formula for great art, these intermingled script elements proved to be popular with audiences in 1983 and beyond.
The idea of a sex professional falling for an "average guy" is a leading male fantasy (although the degree to which Tom Cruise could be considered an "average guy" is debatable, even with makeup and costumes contributing to fashion him as a little more geeky), which explains in part the movie's appeal. Lana is a mixture of the sweet and the seductive: the girl-next-door in the kitchen and the vamp in the bedroom. She's sugar-and-spice and everything nice, with a dose of hot sauce sprinkled on top. Her fling with Joel is forbidden, but that's where the enticement has its roots. Lana helps Joel to grow up. Theirs is not a romance for the ages; it's a romance for the moment. There's a spark between them and some affection, but there is no room for "love" or lasting commitment. Risky Business does not pretend, nor does it ask us to believe, that these two will live happily ever in each other's arms. The movie is also about Joel learning some hard life lessons.
When all is said and done, however, Risky Business is Tom Cruise. Over the years, the actor has accumulated his share of baggage, but this was long before any of that - before Mimi Rogers, Nicole Kidman, and Katie Holmes; before his devotion to Scientology became a lightning rod; and before the tabloids made him a whipping boy. Here, he is fresh-faced and brimming with charisma. His performance is accomplished enough that we accept him as a teenager with girl problems and a less-than-outgoing personality, and we end up rooting wholeheartedly for him to get the girl and achieve his dream (Princeton). Watching Risky Business, it's easy to understand what Hollywood saw in Cruise and why his star skyrocketed in the next few years.
It would be unfair to eliminate De Mornay from the equation. While Cruise may have caused more than a few girls' restless nights, De Mornay did her share of that for the male half of the audience. She clicks with Cruise in a way that none of his other on-screen female love interests have (including Kelly McGillis, Lea Thompson, and Nicole Kidman). De Mornay's career never attained the heights of Cruise's, but she had a nice run during the late-'80s and '90s. The secondary cast is populated by actors trying to get noticed. Joe Pantoliano, who plays sleazy bad guys as well as anyone else, is perfect as Guido. At the time, Pantoliano had some experience, although mostly in TV. Post-Risky Business, he would become one of the most in-demand shady character actors. This was the first feature for both Curtis Armstrong and Bronson Pinchot. In years to come, that latter would have the mixed blessing of being identified with a well-known TV character (Balki on Perfect Strangers) and the former would become inextricably linked to his alter-ego of Booger in the Revenge of the Nerds movies.
Viewed a quarter of a century after its release, Risky Business shows signs of being dated, but nothing is so overt that the picture becomes cheesy or unwatchable. The least effective aspects occur when the story shifts from its core lightweight, fairy tale elements to the ones involving Guido. The unnecessary car chase is out-of-place and the late-film gambit involving the "buying back" of household items strains credulity beyond the breaking point. In the end, however, Cruise gets us through the rough spots, allowing Risky Business takes its place as a fondly remembered piece of recent cinematic history.
---
Risky Business (United States, 1983)
---
Three...better movies of this genre
worse movies of this genre
Three...better movies of Tom Cruise
worse movies of Tom Cruise
Three...better movies of Rebecca De Mornay
(There are no more better movies of Rebecca De Mornay)
worse movies of Rebecca De Mornay
(There are no more worst movies of Rebecca De Mornay)
Three...better movies of Joe Pantoliano
worse movies of Joe Pantoliano