Movies starring Bronson Pinchot Courage Under Fire
It's often said that if you're going to borrow, borrow from the best. And, in motion pictures, one of the best is certainly Akira Kurosawa. His The Seven Samurai was remade as John Sturges' immensely popular The Magnificent Seven. His The Hidden... First Wives' Club, The
It's something of a mystery how three accomplished comic actresses like Diane Keaton, Goldie Hawn, and Better Midler found themselves in the midst of an atrocious mess like The First Wives Club. My best guess is that the story looked better --... Quest for Camelot, The
With new, high-profile animated features being produced by Twentieth Century Fox, Warner Brothers, and Dreamworks, movie-goers may have reason to be upbeat about the future of big- screen animation. The line of thinking goes something like this...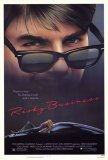 Risky Business
For Tom Cruise, 1983 was the year of his Ascension, although the Coronation would have to wait until Top Gun in 1986. Before 1983, Cruise was regarded as an up-and-coming actor, someone to watch. But with the double-barreled success of the teen r... True Romance
It's dangerous to live in Quentin Tarantino's world, as Clarence Worley (Christian Slater) discovers in the explosive True Romance. When Clarence, a loner with a love of low-budget Kung Fu movies, meets Alabama Whitman (Patricia Arquette), a callg...