Secret Life of Bees, The (United States, 2008)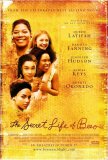 When it comes to movies that touch the heart, few have a more delicate yet undeniable impact than Gina Prince-Bythewood's The Secret Life of Bees. Adapted from the novel by Sue Monk Kidd, the production achieves something few literary interpretations succeed at: bringing out the inner voice of a character without resorting to an incessant voiceover. This is due in no small part to the mature, nuanced performance of Dakota Fanning, whose talent continues to develop as she ages. By resisting the temptation to over-emote, Fanning makes Lily an individual worthy of sympathy and admiration.
The story unfolds against the backdrop of the Civil Rights tumult of 1964 in the South. The film's approach to bigotry and discrimination is unflinching. By not softening the edges of some of the racially charged confrontations, The Secret Life of Bees earns a PG-13 rating. In recent years, there has been an upswing in movies dealing with this period of American history (most of them about the integration of sports), but few have presented as honest an appraisal as this one. Often, elements are toned down in order to attain a PG rating. (The Express, for example.)
Lily Owens (Fanning) is a wise-beyond-her-age 14-year old whose primary education has been at the School of Hard Knocks. As we see in a prologue, she accidentally killed her mother when she was just four years old, and that event has shaped her life for a decade. Her father, T. Ray (Paul Bettany), is frequently drunk and more frequently neglectful. Her sole source of affection is her nanny, Rosaleen (Jennifer Hudson). It's a lonely life for Lily, but she endures because she has no choice.
Two events occur to upset the status quo. T. Ray spitefully dispels Lily's most cherished notions about her mother and Rosaleen is beaten and arrested after insulting a white man. (In 1964 South Carolina, looking askance at a white man could be deemed a punishable offense.) Determined to run away, Lily packs a bag and sneaks Rosaleen out of the hospital room where she is under guard. Lily's destination is a town whose name she discovered on one of her mother's possessions. Once there, Lily and Rosaleen find their way to the home of the three Boatwright sisters: August (Queen Latifa), June (Alicia Keys), and May (Sophie Okonedo). Prosperous and generally respected in their community, the Boatwrights are known for making some of the best honey in the area. It's not the bees that draw Lily to them, however, but their possible connection to her mother.
The Secret Life of Bees effectively colors the background and fills out the secondary characters while never losing its focus on Lily. The setting is one of powerful contradictions, with America teetering on the brink. The hope of a better future - the "dream" of Martin Luther King - is counterbalanced by the anger and prejudice of the present. The beauty of the countryside is contrasted with the close-mindedness of the towns. And Lily comes close to truth only while living a lie.
The Secret Life of Bees offers a twist on a common theme of racially sensitive stories. One often criticized approach to such films is to offer a white character who becomes a champion of the undertrodden and, by joining them, catalyzes their salvation. The reverse occurs here: the white character, Lily, is saved by the black ones. They show her that it's possible to find joy in even the most seemingly joyless of situations and that love is possible for those who believe themselves to be unloved and unloveable. For Lily, this isn't just a coming-of-age story; it's a tale of redemption. And it's through her quest to find forgiveness and affection that The Secret Life of Bees provides its most stirring emotional impact.
The cinematography is beautiful and evocative, transporting viewers back a half-century to a time when so many material things are familiar while attitudes are in many ways so different. The film spends a little time teaching the basics of bee-keeping and honey-making and, while it falls short of a Discovery Channel-style dissertation about the subject, these scenes hold a certain fascination. Of course, there's symbolic significance to this, as one can deduce from the title. The Secret Life of Bees doesn't refer only to what happens in the colony; it has more universal implications.
For Fanning, this is a leap forward from Hounddog. Her character here is in many ways similar to the girl she played in the earlier movie, but the nature and quality of the performance is much different. Given the superior material of The Secret Life of Bees and the sure-handed direction of sophomore filmmaker Prince-Bythewood, Fanning shines in a role that requires her to teeter back and forth between adult and child, displaying decisiveness one moment and uncertainty the next. Jodie Foster was the same age as Fanning when she received an Oscar nomination for Taxi Driver; it would not be surprising for comparisons to be made. The parts are not similar, but the strength of the performances are.
The other actress to stand out is, unsurprisingly, Queen Latifa, whose intense screen presence makes her a force to be reckoned with even when she's simply standing in the background, not saying anything. Latifa is the most generous of actresses, never stealing scenes from her co-stars, and it's this quality that makes the performance all the more impressive. When one thinks of the acting in The Secret Life of Bees, Fanning comes to mind first, but Latifa isn't far behind. The rest of the cast is solid, but unspectacular. Alicia Keys and Sophie Okonedo are fine (but no more) as August's sisters. Considering that she won an acting Oscar and brought some needed energy to Sex and the City, Jennifer Hudson is a little disappointing, bringing little of distinction to a character who too easily fades from the foreground.
If there's a sense that the film's ending is a little abrupt, that's a credit to the filmmakers. Lily is such a vibrant character and her world is so expertly formed that we want the story to extend beyond what could reasonably be considered its natural end-point. It's hard to imagine that The Secret Life of Bees won't be part of many Oscar conversations. It has the intelligence, craftsmanship, and heart to win over both critics and regular movie-goers.
---
Secret Life of Bees, The (United States, 2008)
---
Three...better movies of this genre
worse movies of this genre
Three...better movies of Dakota Fanning
worse movies of Dakota Fanning
Three...better movies of Queen Latifa
(There are no more better movies of Queen Latifa)
worse movies of Queen Latifa
Three...better movies of Jennifer Hudson
(There are no more better movies of Jennifer Hudson)
worse movies of Jennifer Hudson
(There are no more worst movies of Jennifer Hudson)